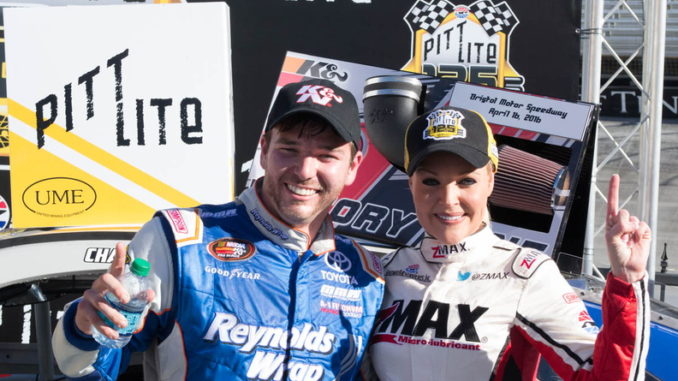 Coming off of a victory in the NASCAR Whelen All-American Series at Kingsport Speedway on Friday night, Chad Finchum and Team McClure Inc. announced this evening that Chad Finchum will make his NASCAR XFINITY Series debut at Dover International Speedway this weekend behind the wheel of the No. 40 Overstock Mercantile Dodge for MBM Motorsports.
"I am very excited about the opportunity. Coming up from the grass roots of the sport, I'm honored to get my chance in the NASCAR Xfinity Series, especially at Dover. I've raced there twice in the NASCAR K&N Pro Series East and had good speed both times. The track is similar to Bristol Motor Speedway and winning at Bristol Motor Speedway in 2016 will definitely help my NASCAR Xfinity Series debut in Dover. I'm looking forward to the race and I hope I can continue to grow and progress in the sport."
Finchum has been here and there in the NASCAR K&N Pro Series, most recently racing in the Zombie Auto 125 at Bristol Motor Speedway where he secured a 5th place finish after the race was shortened by rain. Finchum has one career victory in the NASCAR K&N Pro Series East coming at the Bristol Motor Speedway. He has 17 starts in the series including, as noted above, two starts at Dover.
A Knoxville Tennessee native, has won over 1,000 races across multiple series including in the INEX Bandalero Series, Legends Car Series, and the NASCAR Whelen All American Series.
MBM Motorsports has had 18 starts in the XFINITY Series this season with their best finish of 13th coming at Daytona with Brandon Hightower. Long has had many different drivers behind the wheel of his cars over the years including Timmy Hill, Alon Day, Matt DiBenedetto, Stanton Barrett, and Harrison Rhodes. MBM Motorsports just made it's return to the Monster Energy NASCAR Cup Series at Kansas where Carl Long finished 31st. Long will return this weekend at Dover after withdrawing from Charlotte due to threat of rain.
"MBM Motorsports is happy to have Chad Finchum join our organization. Chad has proved to /be a winning driver and we hope that Chad will gain experience and bring home a solid finish so that sponsors will join on to help his program. As a driver, I have competed in the top tiers of NASCAR since 1983 and now, as I approach 50 years old, I am looking forward to putting drivers behind the wheel of our cars. We know we do not operate with a big budget, but we strive to do more with less at every race we attend. Regardless of operating capital, MBM is growing, and I hope to grow together with Chad Finchum and Team McClure Inc." Said Carl Long, owner of MBM Motorsports.