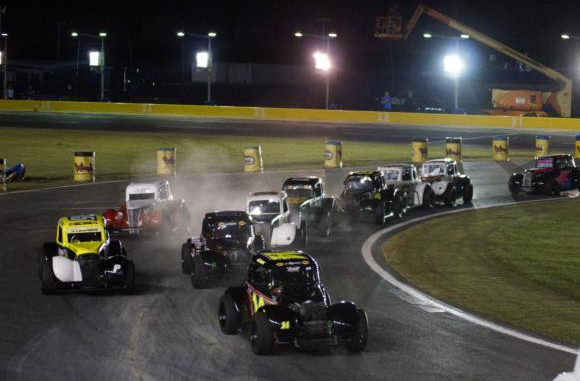 CONCORD, N.C. (May 31, 2017) – For the 24th season in its illustrious history, the Bojangles' Summer Shootout returns to the frontstretch quarter-mile at Charlotte Motor Speedway with a rocking doubleheader June 12-13 featuring a full slate of Legend Car and Bandolero action.
The world's premier grassroots racing event features an action-packed 10-race slate that pairs high-octane racing with can't-miss entertainment including school bus races, a Mascot Mania battle among area sports mascots and spectacular fireworks shows.
The Bojangles' Summer Shootout is known for producing some of NASCAR's top talent, with Joey Logano,Austin Dillon, Ryan Blaney and Bubba Wallace among recent alumni.
Below is a schedule of events for this season:
Monday, June 12

: Wrecker race, Legend Car and Bandolero season-opening events

Tuesday, June 13

: Area principal school bus race, Legend Car and Bandolero races

Tuesday, June 20

: Mascot Mania mascot race, Legend Car and Bandolero races

Tuesday, June 27

: Media Mayhem school bus race, Legend Car and Bandolero races

Tuesday, July 4

: Fireworks, autograph session, Bojangles' Anniversary Celebration, Legend Car and Bandolero races

Tuesday, July 11

: Quad racing, Legend Car and Bandolero races

Tuesday, July 18

: Faster Pastor school bus race, Legend Car and Bandolero races

Tuesday, July 25

: Little Luggies 600, Legend Car and Bandolero races

Monday, July 31

: Porta John race, Legend Car and Bandolero races

Tuesday, Aug. 1

: Champions Night, fireworks, Legend Car and Bandolero finale
TICKETS:
Single-day admission to the Bojangles' Summer Shootout costs just $8 for adults and is FREE for children under 13. Tickets can be purchased online or by calling 1-800-455-FANS (3267)