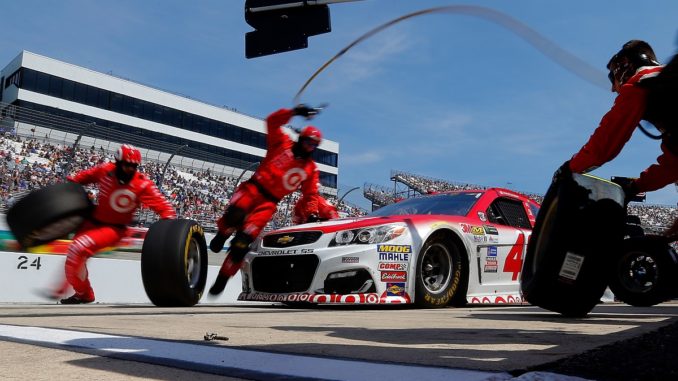 Kyle Larson led 241 laps this afternoon at the Dover International Speedway in the AAA 400 Drive For Autism, but it wasn't enough to beat Jimmie Johnson. He led 156 laps more than he led last season when he came up short to Matt Kenseth. The ending for Larson didn't fall in his favor and he found himself finishing second for the second straight year in the summer race at Dover.
Larson was leading when the final caution came out for David Ragan making contact with the wall after losing a tire in turn one. The final restart really wasn't needed for the driver of the No. 42.
"It was a good race for us. Obviously I didn't need that last caution. Yeah, I mean, Jimmie is the best of our time, probably the best of all time. He just has obviously a lot more experience than I do out on the front row late in races and executed a lot better than I did. I've got to get better at that and maybe get some more wins," Larson said post-race.
Larson was having yet another strong race that ended with him debriefing with his team in pit lane rather than celebrating in victory lane. In his career, he has found himself finishing second 11 times including two times at Dover. Today though, Larson felt like it was the best car he's ever had at Dover.
"At Dover for sure. I'd say the best car I've ever had was Fontana when I won. Yeah, I mean, this was close to it. Yeah, this place is hard. I don't think you ever really feel perfect here."
Leading all those laps can make a win slipping away sting even more, but in his post-race media center availability, he noted that it isn't the biggest disappointment of his career.
"I've had bigger disappointing races, I guess," Larson said. "I don't know, I mean, it's disappointing that I didn't win, but it's also a positive that we led more than half the race and held off guys on four tires when we had two, and we were at a disadvantage a lot of the times and I was able to hold people off. So I'm disappointed that I didn't win, but I'm proud of the effort that our team put in and proud of myself for the effort I put in most of the race. Just, yeah, just got to get better."