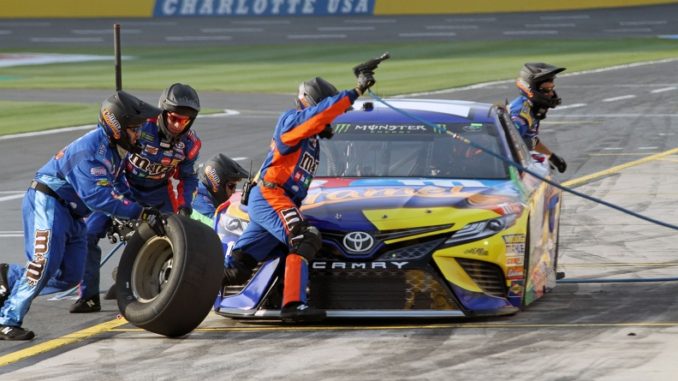 NASCAR handed down hefty suspensions to Kyle Busch's No. 18 Monster Energy NASCAR Cup Series team and Chase Briscoe's No. 29 NASCAR Camping World Truck Series team after a pair of bizarre incidents at Dover International Speedway.
During Friday's running of the Truck race at Dover during a round of green-flag pit stops, tire changer Wesley McPherson on Briscoe's Brad Keselowski Racing truck failed to properly install the lug nuts on the truck causing the tire to fall off the car as Briscoe exited pit road. The NASCAR rule book deems this to be a mandatory four-race suspension for the tire changer, tire carrier and most importantly, the crew chief. Mike Hillman, Jr., who helped lead the No. 29 team to the pole at Dover, will now be absent for the next four races including this weekend at Texas Motor Speedway.
Later in the weekend during the Cup race, a similar incident occurred. Busch's tire changer Jacob Seminara couldn't properly install the tire, and it came off as soon as Busch left pit road. Busch's crew chief Adam Stevens reported that the gun responsible for attaching the lug nuts was working in reverse, so none of the lug nuts would install. The team's jack man dropped the jack, and Busch left pit road. As a result; Stevens, Seminara and tire carrier Kenneth Barber will all be suspended for the next four events, starting with this weekend's race at Pocono Raceway.
Joe Gibbs pleaded with NASCAR after the race to forego the suspension as there was no intent on the part of the crew members involved.
Joe Gibbs Racing was hit with an additional penalty involving lug nuts in the NASCAR XFINITY Series as Matt Tifft's car was found to have one lug nut improperly installed after the race. Crew chief Matt Beckman was fined $5,000.