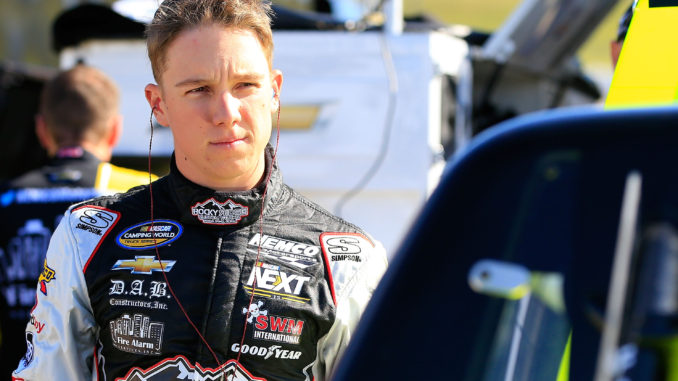 Before the Gateway win last weekend, NEMCO Motorsports was struggling to find enough sponsorship to run John Hunter Nemechek past that race. In an emotional turn of events, John Hunter Nemechek was able to take the No. 8 to victory lane for the first time in 2017, netting the team sponsorship to continue running, including the race at Iowa Speedway. Talks continued that funding was still low for them and that about seven races were left without funding, which would put the team in a tight corner.
"Anytime you can win in any of the NASCAR series, it's hard to do," team owner Joe Nemechek told OnPitRoad.com after the M&M's 200 presented by Casey's General Store. "So for us, we still have a lot of races to sell and we're going up against some big teams who have been doing this a long time. I feel like we're the underdogs every week and we show up with our small crew and we work our tails off and in doing that it gives me so much pride in this whole team and it makes us work harder so I think your going to see us get stronger and stronger.
"We've run good on the mile and a half's and short tracks and I think we can win on anyone of them."
John Hunter Nemechek has been seemingly driving the races of his life the last few weekends. He now has two victories in a row, something neither Joe or John Hunter had ever accomplished in their racing careers. Now with two wins, Nemechek finds himself inching closer and closer to Christopher Bell, who is the only other driver who has more than one victory.
"I feel like last year winning Atlanta early in the year and then having good runs and then toward the end of the year we kinda drooped off in our finishes. We weren't quite finishing Top-5 and I think we peaked too early last year," John Hunter said. "This year, I think we are peaking at the right time and we're gonna be able to continue this momentum going forward. Our guys are more pumped than ever and they're ready to do whatever it takes."
With the Nemechek's still needing to sell sponsorship, the difference between being conservative on the track and giving it an all or nothing approach has more similarities than one would think.
"I don't feel like we're driving like there's all or nothing nor driving conservative," John Hunter said. "At the middle of the year, we knew we needed to find sponsorship (and) that not all the races were sold. Unfortunately we had some mishaps throughout the beginning of the season, had some ups and downs.
"We've had fast trucks every week we've unloaded. Some mistakes have been on my part, we've had mechanical failures but being able to get a win last week did so much for our team confidence wise. All the guys are determined, they're dedicated, and we're going to bring fast trucks to the track each and every week and however many hours we have to work our guys are ready to do it because it makes victory just that much more sweeter."