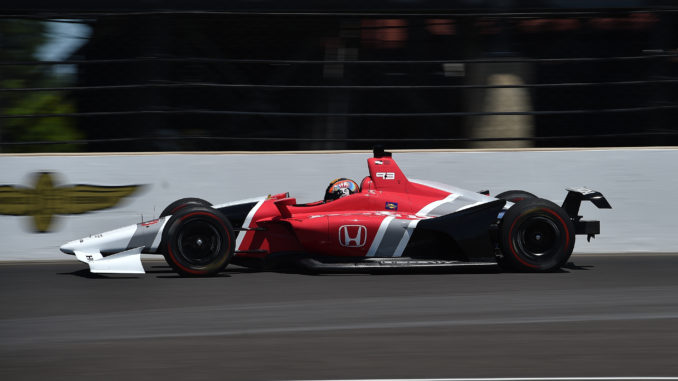 The Verizon IndyCar Series held the opening test for the new aerodynamic bodyworks kit that will be run in 2018 at the Indianapolis Motor Speedway on Tuesday. Development drivers Juan Pablo Montoya and Oriol Servia both turned more than 100 laps each while getting a feel for the new car.
Servia finished 21st in this years 101st Indianapolis driving for Rahal Letterman Lanigan Racing after a late race crash. With over 200 starts in IndyCar, he was picked by the series to test the new rule package knowing that he would be able to give the best feedback on the new car.
"From Lap 1, it just felt at home," said Servia, who has much experience behind the wheel of an IndyCar. "The car felt great. I was flat on it out of the pits, which just says how good the car felt right away. I think it's going to be a fast, good racer."
While Servia tested Honda's new car, Montoya, a two-time Indianapolis 500 winner, was selected to pilot the Chevrolet version of the new car. Montoya was pleased with the direction INDYCAR is taking.
"It's exciting because, for the first time in the car, it drives really, really well," said Montoya. "I think they addressed a lot of the things and the car looks great. I think having one aero kit for everybody is great for the sport. The car looks good and it drives really good."
The test was successful, but still leaves a lot to be learned with additional tests for the two cars that will happen at Mid-Ohio Sports Car Course, Iowa Speedway and Sebring International Raceway in the months of August and September.
"We were pleased," said Bill Pappas, INDYCAR's vice president of competition/race engineering who headed up the technical development of the universal kit. "It matched up with our numbers that we predicted in the wind tunnel and CFD (computational fluid dynamics), so we were very happy for that."