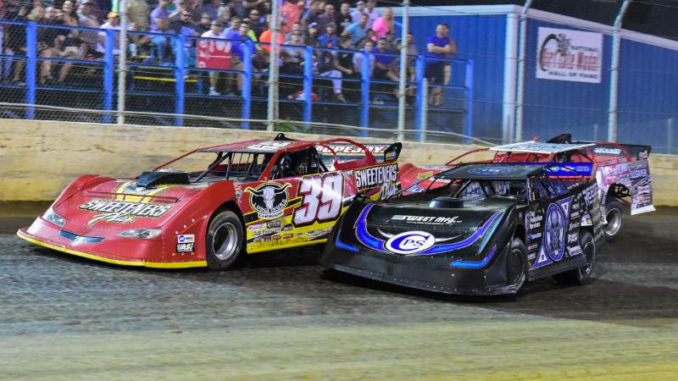 UNION, KY (August 12, 2017) – Tim McCreadie passed race-leader, Scott Bloomquist on lap 97 and then held off Bobby Pierce and Bloomquist to win the 35th Annual Sunoco Race Fuels North/South 100 – presented by Lucas Oil 
on Saturday
 night at the Florence Speedway. Bloomquist had been the dominant car for most of the race until McCreadie and Pierce went to the outside of the track – both forging ahead of Bloomquist with three laps remaining.
McCreadie earned $50,000 in his first-ever win at the King Family promoted facility. Pierce; last year's winner; came home in second with Bloomquist; a 2-time winner of the race; finishing in third. Jimmy Owens led the first 17 laps, but finished in fourth. Darrell Lanigan was fifth at the checkered flag.
With a standing-room only crowd on hand for the event; McCreadie did his patented victory lane celebration that had the crowd cheering ever louder. "I think we all have learned a lot from Bobby [Pierce] – if there is something out there you need to run it. Bobby and I probably raced a bit too clean; we had an issue at the Show-Me. I appreciate that he ran me clean. He [Pierce] is turning into a true professional. He could have raced me dirty, but he didn't."
"Thanks to Sweeteners Plus and Longhorn Chassis this makes perfect sense. Never in my wildest dreams did I think it would turn out like this. Thanks to everybody at the shop, also a big thanks to Pro Power Racing Engines and Penske Racing Shocks. I was a little free early on, but as the track burned off we got better. I was tighter through the center than I would have liked. I am bullheaded sometimes, but I put my faith in my guys 
tonight
 and it paid off."
Bloomquist took the lead from Owens on lap 18 and was in control of the race until with ten laps to go when McCreadie and Pierce both went to the top side to track Bloomquist down. The crowd then got on its collective feet as McCreadie took the lead from Bloomquist.
"Congrats to McCreadie on the win. That is what you call racing," said Pierce. "A few months ago at the Show-Me I I kind of rubbed him a little bit. He wasn't happy about that. 
Tonight
 we were duking it out and we kind of came up through the field like teammates there, it's like we were drafting of each other. Last year there was a lot of cushion to use as compared to this year, so it made it a little tougher."
Bloomquist; who was looking for his first North/South 100 win since 2000 and was coming off three-straight years of runner-up finishes; looked to be headed to his third win in the event until McCreadie and Pierce caught him. "We didn't realize they were that high and I didn't think there much up there to work with. I didn't really get a signal to where they were at on the track. I had no way of knowing. We kind of stayed right in the middle and was pacing ourselves."
Completing the top ten were Brandon Overton, Zack Dohm, Josh Richards, and Hudson O'Neal.
Lucas Oil Late Model Dirt Series
Race Summary
Saturday, August 12th, 2017
Sunoco North/South 100 – presented by Lucas Oil Products
Florence Speedway – Union, KY
Eibach Springs Heat Race #1 – ROUND ONE Finish: Eddie Carrier, Jr., Victor Lee, Dale McDowell, Michael Page, Shanon Buckingham, Jason Jameson, Jeep VanWormer, Jason Miller, Steve Casebolt , Connor Meade, Paul Stubber, Trevor Landrum
FK Rod Ends Heat Race #2 – ROUND ONE Finish: Scott Bloomquist, Zack Dohm, Jimmy Owens, Hudson O'Neal, Robby Hensley, Austin Hubbard, Gregg Satterlee, Tyler Erb, Devin Moran, Brandon Kinzer, Zak Blackwood
Simpson Performance Products Heat Race #3 – ROUND ONE Finish: Jonathan Davenport, Steve Landrum, Brian Shirley, James Rice, Chad Stapleton, Jackie Boggs, Earl Pearson, Jr., Craig Vosbergen, Rick Eckert, Kody Evans, Devin Gilpin
QA1 Heat Race #4 – ROUND ONE Finish: Josh Richards, Billy Moyer, Jr., RJ Conley, Chris Combs, Mike Marlar, Timothy Culp, Dennis Erb, Jr., John Whitney, Tommy Bailey, John Gill, Billy Green
ASi Racewear Heat #5 – ROUND ONE Finish: Bobby Pierce, Kyle Bronson, Darrell Lanigan, Tim McCreadie, Brandon Overton, Michael Chilton, Boom Briggs, Nick Latham, Ray Cook, Jesse Lay, Cody Mahoney
DirtOnDirt.com Heat #6 – ROUND ONE Finish: Don O'Neal, Kent Robinson, Steve Francis, Mason Zeigler, Scott James , Chris Ferguson, Dustin Nobbe, Austyn Mills, Adam Bowman, Joey Moriarty, Roger Williams
Eibach Springs Heat Race #1 – ROUND TWO Finish: Jimmy Owens, Jason Jameson, Darrell Lanigan, Josh Richards, Rick Eckert, Zack Dohm, Kyle Bronson, Jeep VanWormer, RJ Conley, James Rice, Dustin Nobbe
FK Rod Ends Heat Race #2 – ROUND TWO Finish: Shanon Buckingham, Scott James , Jason Miller, Jackie Boggs, Mason Zeigler, Cody Mahoney, Tyler Erb, Austin Hubbard, Timothy Culp, Kody Evans, John Gill
Simpson Performance Products Heat Race #3 – ROUND TWO Finish: Tim McCreadie, Scott Bloomquist, Adam Bowman, Bobby Pierce, Chad Stapleton, Trevor Landrum, Steve Landrum, Tommy Bailey, Paul Stubber, Austyn Mills, Devin Gilpin
QA1 Heat Race #4 – ROUND TWO Finish: Mike Marlar, Michael Chilton, Steve Casebolt , Brian Shirley, Don O'Neal, Chris Combs, Steve Francis, Victor Lee, Boom Briggs, Brandon Kinzer, Robby Hensley
ASi Racewear Heat #5 – ROUND TWO Finish: Earl Pearson, Jr., Hudson O'Neal, Chris Ferguson, Nick Latham, Michael Page, Kent Robinson, Craig Vosbergen, Eddie Carrier, Jr., Billy Green, Ray Cook, John Whitney
DirtOnDirt.com Heat #6 – ROUND TWO Finish: Brandon Overton, Gregg Satterlee, Devin Moran, Joey Moriarty, Billy Moyer, Jr., Jonathan Davenport, Dale McDowell, Connor Meade, Roger Williams, Jesse Lay, Dennis Erb, Jr.
Penske Racing Shocks B-Main #1 Finish (15 Laps – Top 2 Transfer): Zack Dohm, Victor Lee, Kent Robinson, Jackie Boggs, Dennis Erb, Jr., Kyle Bronson, Steve Francis, Craig Vosbergen, Adam Bowman, RJ Conley, Trevor Landrum, Austyn Mills, Billy Green, Tyler Erb, Paul Stubber, Rick Eckert-DNS, John Gill-DNS
Fast Shafts B-Main #2 Finish (15 Laps – Top 2 Transfer): Eddie Carrier, Jr., Mason Zeigler, Dale McDowell, Earl Pearson, Jr., Nick Latham, Steve Landrum, Devin Moran, Timothy Culp, Chad Stapleton, Connor Meade, Jesse Lay, Zak Blackwood, James Rice, Robby Hensley, John Whitney, Cody Mahoney, Brandon Kinzer-DNS
Sunoco B-Main #3 Finish (15 Laps – Top 2 Transfer): Gregg Satterlee, Michael Chilton, Steve Casebolt , Jason Miller, Chris Combs, Chris Ferguson, Austin Hubbard, Ray Cook, Dustin Nobbe, Tommy Bailey, Roger Williams, Devin Gilpin, Michael Page, Boom Briggs, Joey Moriarty, Jeep VanWormer-DNS, Kody Evans-DNS
Feature Finish (100 Laps):
| | | | | | |
| --- | --- | --- | --- | --- | --- |
| FINISH | START | CAR # | DRIVER NAME | HOMETOWN | EARNINGS |
| 1 | 4 | 39 | Tim McCreadie | Watertown, NY | $50,700 |
| 2 | 5 | 32 | Bobby Pierce | Oakwood, IL | $10,000 |
| 3 | 1 | 0 | Scott Bloomquist | Mooresburg, TN | $8,100 |
| 4 | 2 | 20 | Jimmy Owens | Newport, TN | $5,800 |
| 5 | 7 | 14 | Darrell Lanigan | Union, KY | $4,700 |
| 6 | 11 | 116 | Brandon Overton | Evans, GA | $3,800 |
| 7 | 17 | 17d | Zack Dohm | Cross Lanes, WV | $3,600 |
| 8 | 3 | 1R | Josh Richards | Shinnston, WV | $4,200 |
| 9 | 15 | 49 | Jonathan Davenport | Williamston, SC | $3,350 |
| 10 | 8 | 71 | Hudson O'Neal ® | Martinsville, IN | $4,100 |
| 11 | 10 | 5 | Don O'Neal | Martinsville, IN | $4,050 |
| 12 | 6 | 50 | Shanon Buckingham | Morristown, TN | $3,200 |
| 13 | 22 | 97 | Michael Chilton | Salvisa, KY | $3,150 |
| 14 | 9 | 157 | Mike Marlar | Winfield, TN | $3,125 |
| 15 | 19 | 22 | Gregg Satterlee ® | Rochester Mills, PA | $3,800 |
| 16 | 18 | 10C | Eddie Carrier, Jr. | Salt Rock, WV | $3,075 |
| 17 | 16 | 21JR | Billy Moyer, Jr. | Batesville, AR | $3,050 |
| 18 | 23 | 1 | Earl Pearson, Jr. | Jacksonville, FL | $3,825 |
| 19 | 12 | 83 | Scott James | Lawrenceburg, IN | $3,000 |
| 20 | 21 | 25Z | Mason Zeigler | Chalk Hill, PA | $3,000 |
| 21 | 26 | 15 | Steve Francis | Bowling Green, KY | $800 |
| 22 | 24 | 28E | Dennis Erb, Jr. | Carpentersville, IL | $3,700 |
| 23 | 20 | 6 | Victor Lee | Danville, KY | $3,000 |
| 24 | 27 | 21H | Robby Hensley | Walton, KY | $3,000 |
| 25 | 13 | 3s | Brian Shirley | Chatham, IL | $3,000 |
| 26 | 14 | 12J | Jason Jameson | Lawrenceburg, IN | $3,000 |
| 27 | 26 | 99B | Boom Briggs ® | Bear Lake, PA | $800 |
Non-Qualifiers Race Finish: Dale McDowell, Craig Vosbergen, Kent Robinson, Steve Casebolt, Jackie Boggs, Austin Hubbard, Nick Latham, Timothy Culp, Chad Stapleton, Ray Cook, Trevor Landrum, Dustin Nobbe, Jesse Lay, Jason Miller, Connor Meade, Chris Ferguson, Tommy Bailey, Chris Combs, Steve Landrum
Race Statistics
Entrants: 67
Lap Leaders: Jimmy Owens (Laps 1 – 17); Scott Bloomquist (Laps 18 – 95); Tim McCreadie (Laps 97 – 100)
Cautions: Mason Zeigler (Lap 34); Dennis Erb Jr. (Lap 38); Gregg Satterlee (Lap 63)
Lucas Oil Late Model Dirt Series Provisionals: Earl Pearson Jr., Gregg Satterlee
Lucas Oil Late Model Dirt Series Emergency Provisionals: Steve Francis, Boom Briggs
Florence Speedway Track Provisionals: Robby Hensley
Wrisco Feature Winner: Tim McCreadie
Optima Batteries Hard Charger of the Race: Zack Dohm (Started: 17th; Finished: 10th; Advanced 7 Positions)
Midwest Sheet Metal Spoiler Challenge Point Leader: Josh Richards
Allstar Performance Power Move of the Race: Zack Dohm
Sunoco Race for Gas Highest Finisher: Jimmy Owens
Hot Rod Processing Rookie of the Race: Hudson O'Neal
COMP Cams Engine Builder of the Race: Pro Power Race Engines
Ohlins Shocks Chassis Builder of the Race: Longhorn Chassis
Outerwears Crew Chief of the Race: Phillip Snellen (Tim McCreadie)
Fastest Lap of the Race: Jimmy Owens (Lap #3 – 16.8283 seconds)
Safecraft Most Laps Led: Scott Bloomquist (79 Laps)
PFC Brakes Pole Award: Scott Bloomquist
Time of Race: 40 minutes 08 seconds