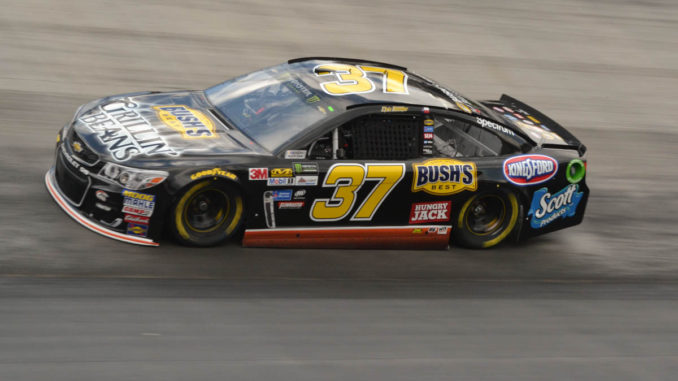 During Friday's media availability at Bristol Motor Speedway, Chris Buescher, driver of the No. 37 JTG Daugherty Racing Chevrolet, along with team co-owner, Tad Geschickter, announced the team has signed a multi-year contract extension.
"We have been able to work through contractual stuff and get Chris (Buescher) signed up for multi years to continue to drive for us at JTG Daugherty racing.  We couldn't be happier about that", said Geschickter.
Buescher, who joined the team at the beginning of the 2017 season, has amassed three top-ten's and has an average finish of 20.7.
"So, really excited to be able to get everything worked out to be able to drive for JTG Daugherty Racing for the next handful of years", said Buescher. "We have been able to make a lot of progress this season and everyone knows how hard it is to fire off at the beginning of the year with everything being completely new. Not only just new to me, but adding a second team is a pretty major undertaking."
Geschickter also commented on the status of the team's charter. "Yes, we have an owner's agreement to purchase a Charter and that paperwork is going to be submitted to NASCAR this week and hopefully it gets all signed and approved.  More to come on that, but we have a plan on that and it is well down the road."
Securing a charter is a crucial element for the team as it guarantees a starting spot in every event in the series schedule. A guarantee that is more valuable given the recent conversations regarding cost cutting and the lack of funding. Sponsors are more valuable than ever. To assure one's sponsors a guaranteed starting spot is a significant selling point.
Cost reduction was on the list of topics today with Geschickter commenting, "I think that they continue to look at ways to cut the cost.  Cutting back some tires this year, certainly was a help to us.  But, I will say that what we spend today versus what we spent 10 years ago it's crazy to look at.  We keep working along and before you know it we have got the sponsorship to do it, but certainly I think NASCAR is serious about it and the team owner council is serious about continuing to find ways to cut back on that anyway we can as quickly as we can."
For at least the next few years, JTG Daugherty Racing and Buescher can focus on performance with the security of this extension now in place.