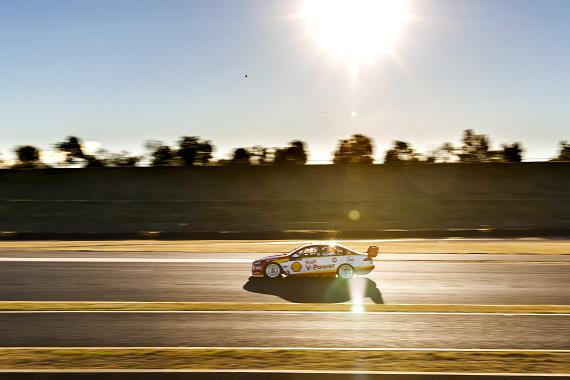 Kiwi flier Scott McLaughlin continued his golden run in the Virgin Australia Supercars Championship on a blustery Sydney day by topping Friday practice at the Red Rooster Sydney SuperSprint.
But there were plenty of contenders lining up behind the Championship leader including Sydney-born Mark Winterbottom who had a return to the top three after a troubling year.
Quiet young Prodrive Racing Australia achiever Cam Waters, tenth in the Championship, was also in the mix with his team-mate Chaz Mostert with the team, including Winterbottom, with three cars in the top four.
Shell V-Power Racing's McLaughlin had a 1-2 result at the last event in Ipswich, finishing second to Mosterton Sunday, to extend his Championship lead. He said at the time he expected Mostert and the Prodrive clan to make a run following their form in Queensland.
"Until we get to the race tomorrow we don't know but the car felt good to me. It's a bit eye opening going four seconds quicker, it's hard to get your brain around that and adjust," McLaughlin said.
"We are on a roll, we have just got to keep it going. We have got a lot of work to do still."
Winterbottom, the 2015 Champion, has been patient this year as the team slowly works its way back into contention. He grew up down the road from Sydney Motorsport Park at Doonside.
"I have been saying for a while I think I am driving alright," Winterbottom said.
"We have had a really good day. I am really proud of the development we are making and you just have to keep backing yourself. As a team we have gone forward, that's the main things. It doesn't mean anything for results but it's still a good day."
The brutal Sydney wind blew many of the favourites away in the first two sessions in a strange opening day. It took the majority of teams the entire day to adapt to the conditions before some of the big guns fired late.
"It (the wind) is crazy, we're so deep into turn one, it's awesome. We're just throwing it in there and the car just sticks," McLaughlin said.
"But then you get over the back into turn six and down the hill it pushed the car into the corner very hard and it's quite hard to stop. It's easy to underdo it or overdo it in these conditions. It's hard to find a balance."
Nissan's Michael Caruso backed up his strong Practice 1 showing in fifth ahead of Craig Lowndes and Tim Slade, who was fastest before a late flurry of faster times.
Lowndes has five wins at Sydney Motorsport Park and was the fastest of the Triple Eight Racing stable today with Jamie Whincup, second to McLaughlin in the Championship, in sixth.
McLaughlin's team-mate Fabian Coulthard, Whincup and Rick Kelly completed the top 10, while the second Red Bull HRT entry of Shane van Gisbergen ended up 13th.