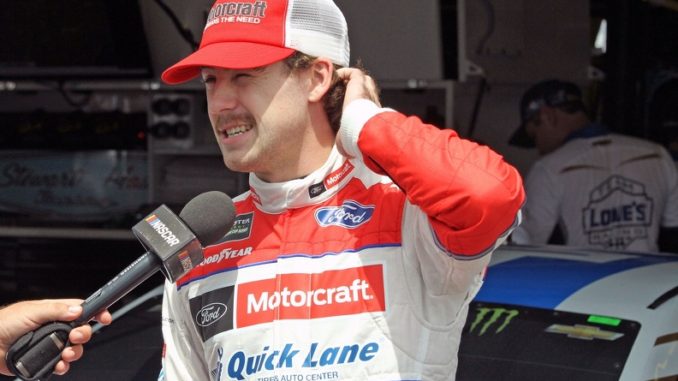 When you think of the history of NASCAR, the Wood Brothers have been around through all of the trials and tribulations since 1953. The team has seen 64 years of NASCAR racing with numerous drivers including David Pearson, Curtis Turner, Marvin Panch, A.J. Foyt, Neil Bonnett, Buddy Baker, Trevor Bayne and most recently Ryan Blaney.
Earlier this season, Blaney earned the Wood Brothers their 99th victory at Pocono Raceway, which locked the Wood Brothers into the playoffs for the first time.
While in pursuit of the team's milestone 100th win, Blaney is also looking to earn the Wood Brothers their first drivers championship. The team has finished a best of third twice with Fred Lorenzen in 1963 and David Pearson in 1974.
This year, Blaney is looking to better that statistic from third to first and deliver the championship in his final season with the Wood Brothers before moving onto Team Penske's No. 12 entry next season. Before that happens, Blaney still needs to put the finishing touches of 2017.
"Everyone talks about the first round, not making mistakes. Whether its driver error, pit crew, or parts failure; that is about the biggest thing we can do," Blaney told OnPitRoad.com following the Federated Auto Parts 400 at Richmond on Saturday night. "I think the first round is pretty strong. New Hampshire we ran okay at and that's probably the one I'm most worried about but Chicago has been an awesome race track for us and Dover we have always ran pretty well there too so hopefully we can find some speed here in a week and we'll see what everyone has at Chicago. You never know how you stack up until that race."
Blaney made his 80th start in the Monster Energy NASCAR Cup Series Saturday night where he brought home an 18th-place finish. Since a disappointing 30th-place run in his return to Pocono in July, he's finished 15th or better in four of the five races with a 31st place finish in between at Darlington. With the victory in the bank, that 31st-place finish didn't sting as much as it would've but still the team left a lot of points on the table. Though leaving points on the table, Blaney has stayed consistent in points and with that and a victory in any of the three rounds of the playoffs can equal into a successful equation that could turn into a championship season for the No. 21 team.
"The second round is very good tracks for us (Charlotte, Kansas and Talladega). The first round is obviously the one I'm kinda most worried about because New Hampshire is in there. We broke at Dover earlier this year, which was unfortunate. This first round is all about not making mistakes. I think this team is good enough to easily make it past the first round, it's just us doing our job and not doing anything foolish and then I think we can go onto the second round and try to win one of those races. I think our mindset will change we just have to make it past the first one, that'll be the big test."