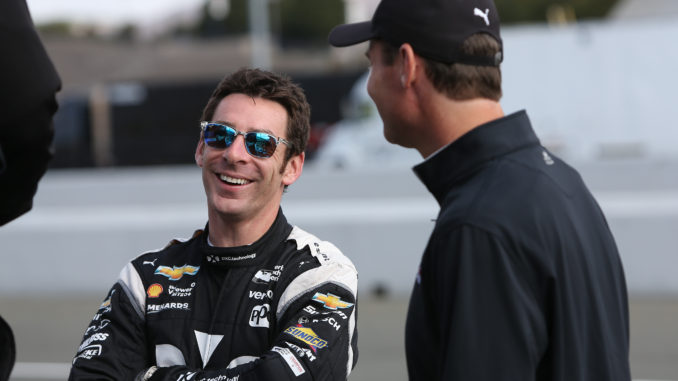 As we approach the final race of the 2017 Verizon IndyCar Series Season, there are five drivers that are still mathematically in contention for the Astro Cup, given that this race is a double points race.
Josef Newgarden is currently the leader of the championship standings, but only by three points. He has had a great season since joining Team Penske, however Sonoma Raceway hasn't been very kind to him. Out of five races at the track he only has two top-10 finishes. Entering the race as the points leader, he has the most to lose out of all of the title contenders.
"The whole hum by Verizon Chevrolet team is looking forward to Sonoma with the championship on the line," Newgarden said. "The points are tight. It's going to be a fun weekend with all the scenarios that are out there. We have a championship-caliber team, we're going to do everything we can to bring another title to Team Penske."
Coming off a second-place run at Watkins Glen a few weeks ago, Scott Dixon sits behind Newgarden in second, just 3 points shy of the lead. The New Zealand driver is looking to win his fifth series championship, and has the best chance of overthrowing Newgarden. He also runs well at Sonoma with three wins at the track and multiple top-10s.
"I think it's been a total team effort for the No.9 NTT Data team all season," Dixon said. "I think Chip Ganassi Racing is very strong at these high-pressure, coming down to the wire situations, and not just for myself but other championships they've won through the years. I remember being right there for many of Dario Franchitti's, too, that worked out in similar fashion.  I think it's not necessarily a situation we thrive on. We would clearly like to be many points ahead and not having to worry about the last race, and you can go into a final just having to start or something like that.  I don't really speak to my competitors on that front of hear what they have to say or read up on it.  For us, we'll just got out there and try and get the job done and treat it as an ordinary race, even though there is a lot on the line."
Will Power is another driver who is mathematically still in contention for the championship going into this weekend's race at Sonoma. The Australian driver has had an up and down season pretty decent season so far, but three wins and nine top-five finishes has kept him in the title hunt. However, Power has a love-hate relationship with the road course. Sonoma was the race where he broke his back in 2009. Since the race where he injured himself, he's come back to win at Sonoma three times.
"Watkins Glen was tough race but we came out with a strong finish," Power said. "Now we're heading to Sonoma.  We're a little further back in points, but if things go our way, the No.12 Verizon Chevy team could win another championship, which is definitely been a goal of ours.  Since the last race, my crew has worked on the car and is trying some new things that should really pay off in the end. We'll be battling other strong teams including (Scott) Dixon and my Team Penske teammates, so it won't be easy. We've worked hard all season long, and although we've had some bad luck, we're ready to put that all behind us and give this race everything we have."
Simon Pagenaud is the reigning IndyCar Champion, and is looking to head into Sonoma with the chance to defend his title and be a back-to-back champion.  The French driver is also the defending race winner from last year. Out of all of the contenders he has had the most consistent season, only finishing out of the top-10 in two races.
"Sonoma is a beautiful place and the track is one of the best on the circuit," Pagenaud said. "It's also where I won the race last year and won my first championship, so it's definitely a place that means a lot to me.  We've worked so hard this season in the No.1 DXC Technology Chevy and have some things we're excited to try at Sonoma. We have a great shot at the tittle, and we're ready to challenge Scott Dixon and my Team Penske teammates for it.  My team has worked hard to get to this championship fight, and they put together a strong car for Sonoma. I feel great about our chances.  We're ready to get on track and put everything we can into the race."
With his IndyCar career possibly on the line this weekend, Helio Castroneves is looking to finally win his first championship. The three-time Indianapolis 500 winner sits third in points.
"It all comes down to this," Castroneves said. "We had a strong car at Watkins Glen and were able to run toward the front of the pack. We're ready to take what we learned at that race and all season to apply to the No.3 Hitachi Chevrolet. I want a championship so bad and all my guy definitely want one too.  We've worked hard to have strong finishes this season and know if we have a great and win, we just might win the championship, which is really exciting. Sonoma is always a great race, and it will definitely be a challenge with (Scott) Dixon and my Team Penske teammates also battling for the title.  We got some track time last week with a test day and some more this week.  Every team's goal at the beginning of the season is a championship and we're in a position to realize ours."