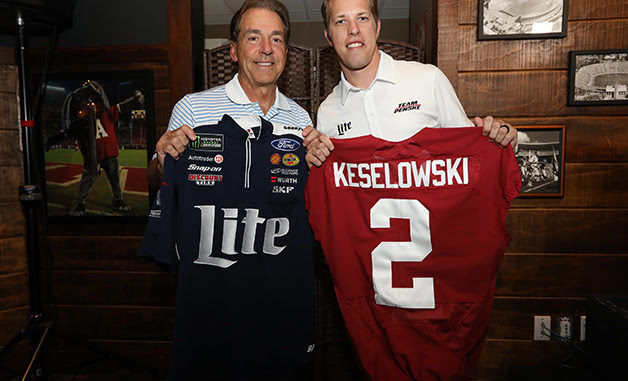 TUSCALOOSA, AL – Four-time Talladega Superspeedway winner Brad Keselowski was down the road Thursday in Tuscaloosa, Alabama – affectionately known as 'Title Town' – on the campus of The University of Alabama to talk about his quest for another 'Dega win, as well as a second NASCAR Championship. After meeting with head football coach Nick Saban, whose No. 1 ranked Crimson Tide team is known for exhibiting grit, determination and dominance, Keselowski knows all too well the process he and his team must follow upon his return to the state for the Alabama 500 at Talladega in just two weeks.
"I learned firsthand today that Coach Saban and my car owner – 'the Captain' Roger Penske – have much of the same school of thought when talking about achieving success," said Keselowski, who currently sits fourth in the Monster Energy NASCAR Cup Series (MENCS) Playoffs. "Like Coach Saban, Roger expects excellence throughout our race team. He is dedicated and committed with disciplined leadership to build the total program. And, we all demand that of ourselves, which means we expect to win at Talladega again, and ultimately, another championship."
That disciplined approach has worked well for Saban, who has four national titles in the last seven years at Alabama, and for Penske, who has more than 100 MENCS wins (five of which have come at Talladega) as well as the 2012 title with Keselowski behind the wheel of his No. 2 Ford. Penske also has an incredible 16 Indianapolis 500 victories to go along with 15 open wheel championships. Saban has a theory about success overall.
"Success if momentary. Being successful is different than being a success," said Saban, who actually served as the Grand Marshal for Talladega's 2009 spring MENCS race. "To be successful you must have consistency in performance. Just because you had success doesn't mean you are going to continue to have success. You may have won the last race but that isn't going to help you in the next race. It is difficult for them (team members) to stay laser focused on what is needed to continue to have success.
"You can climb a mountain, but not everyone makes it to the top. For those who do make it to the top, very few stay on top. So what is the moral of the story? You better keep your ass climbing no matter what….because someone is always gonna get ya – no matter if you get to the top or you don't."
"Well said," Keselowski added. "It truly was an honor for me to be here at such a world-class program and institution today. Just incredible at what Coach Saban and his staff have done here."
Some would say that Keselowski was in enemy territory Thursday. A native of Rochester Hills, MI, he is both an avid fan of Michigan Wolverines football and friend of Michigan coach Jim Harbaugh. But, when it comes to the state of Alabama, he has massive respect for Coach Saban, and a huge passion for NASCAR's biggest and baddest venue in Talladega, which hosts the second race in the Round of 12 during NASCAR's Playoffs on Sunday, Oct. 15.
"To win in football or to win at Talladega, you have to be the ultimate tactician," admitted Keselowski. "Nowhere is that more evident than here in football, or for a driver at 'Dega. The driver is the quarterback and the crew chief is the head coach. I guess you could say that I have been able to throw some touchdowns and help our team to four wins there. And, I think rivalry in sports is a good thing. I know Michigan has won a lot of championships (11) in football as has Alabama (16). We have those rivalries in NASCAR, too (as of late, Keselowski's noted rival has been 2015 NASCAR Champion Kyle Busch).
"I can tell you this. I hope the tide rolls us right into victory lane when we get back to Talladega. Like Coach Saban and his teams at Alabama, there is a winning tradition at Team Penske. We hope to add to that legacy with another Talladega Superspeedway triumph, and ultimately another championship."
Keselowski's day included viewing a Crimson Tide football practice, a behind-the-scenes tour of the Mal Moore Athletic Complex, including the Hall of Champions, which showcases countless trophies and awards. He even got the chance to speak with media in the press room where so many memorable and viral Saban press conferences have taken place.
While on campus he took the time to visit with two groups of students to talk about a host of items, including Talladega's $24 College Student Ticket Offer (www.talladegasuperspeedway.com/college), which gives students an unbelievable race weekend experience. He elaborated on the special benefits the ticket package offers: a college-only campground for tailgating; a grandstand ticket for the Alabama 500; access to the biggest party in NASCAR – the "Big One on the Blvd" – on Friday night; and admission to the Colt Ford Concert Powered by American Ethanol in the infield Saturday night. He met with future communication graduates, giving tips on interviewing sports personalities before making a pit stop at the Pi Kappa Alpha fraternity to experience UA's Greek life.
He ended the evening by being a guest of Coach Saban's weekly radio program – 'Hey Coach' – where Saban presented Keselowski with a custom-made No. 2 Alabama jersey, while Saban received a unique Team Penske pit crew shirt. Talladega Superspeedway, on behalf of the NASCAR Foundation and 'Dega Gives Charity efforts, wanted to show appreciation as well by presenting a $2,500 donation to Terry and Nick Saban's official charity – Nick's Kids Foundation.
Just before leaving, Keselowski said, "I know Coach Saban says that process guarantees success. We feel our process has us prepared for any and everything. Can't wait for Talladega and the rest of the season. We are ready."
Visit www.talladegasuperspeedway.com or call 855-518-RACE (7223) for ticket information to experience the highly-anticipated Alabama 500, where Keselowski will try and catch up in the record book to six-time winner Dale Earnhardt Jr., who will make his final start at Talladega.Saturday, Oct. 14, the track will also host the fred's 250 Powered by Coca-Cola, the elimination race in the Round of 8 for the NASCAR Camping World Truck Series Playoffs.