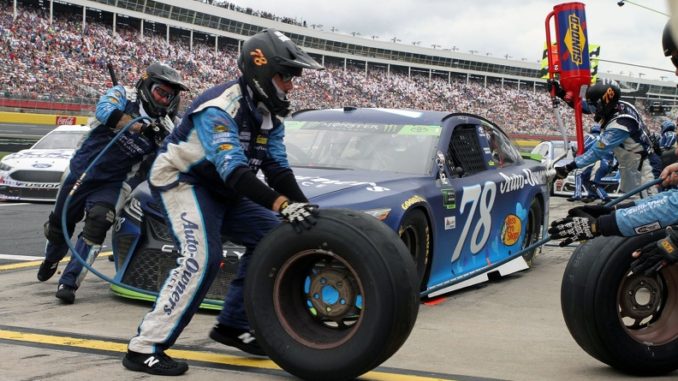 Martin Truex Jr. brought home his sixth victory of the 2017 season on Sunday in Charlotte. It wasn't the dominating performance fans are used to seeing out of the No. 78, but it was a statement victory for the team.
Though every win this season has came from a team effort, Truex has been dominant in most of the wins, while the pit crew would have to put in their share. This weekend, however, the pit crew stepped up and showed that they are a force to be reckoned with. The victory on Sunday showed that the No. 78 team is ready for Homestead.
"Just overall, it just amazing to be a part of this team, to be on the roll we're on, have the confidence we have, have the partners we have. I just feel like everything is just lining up the way we need it to. We're definitely working hard.  We're definitely enjoying it. Our guys work so hard, it's unbelievable. Everybody is all in 100 percent. Our guys at the shop, our guys here at the racetrack, our pit crew training, and just every part of our program today was flawless, and that's what it takes to win championships," said Truex.
"I feel very lucky to be part of this team. It's been an amazing couple of years, and I feel like it just keeps getting better.  We're going to keep working hard. We've got our eye on the prize, and we know where we want to go, and we still know there's some hurdles in the way, so we'll just keep focused and enjoy the good days as they come, but tomorrow starts preparing for next week and the next round for sure."
The No. 78 is locked into the next round of the playoffs, something that would've been nice last season. Even though he has the win and doesn't have to worry about Talladega, Truex still can show up this weekend and win.
"We definitely want to perform next week. I will say that it's going to be pretty awesome going to Talladega and say, oh, what the hell, let's go race," said Truex. "It Doesn't matter if we crash.  Talladega has just been a tough track for us just to finish.  I mean, last year we probably had the best car we've ever went there with, and we ran 20 laps and blew up."