Spencer Davis Riding with Musselman's BIG CUP Looking for Redemption at Kansas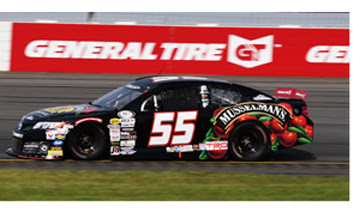 Concord, North Carolina (October 17, 2017) – Georgia driver Spencer Davis will have another shot at capturing his first victory in the ARCA Racing Series presented by Menards when the series returns to action for the Kansas 150 at Kansas Speedway on Friday night.
For Davis, a former NASCAR Next alum, Friday night's ARCA series finale will mark his seventh start of the season driving for Venturini Motorsports and first event carrying the colors of team sponsor Musselman's BIG CUP Apple Sauce. Davis will drive the team's No.55 Toyota Camry paired with crew chief Ryan London.
"I'm excited to get back into my Toyota Camry and mix it up with the guys in the ARCA Series," says Davis. "We've got Musselman's riding along with us this weekend – hoping we can give them a good showing in the finale."
Since finishing third at Talladega in his series debut Davis has been plagued with bad luck. Coming off a season low 15th place finish at Kentucky the nineteen year-old driver is optimistic about turning things around.
"We've kinda had an up and down season. Kansas give us a great opportunity to turn things around and prove what we're capable of doing out on the track. We've showed some speed but lately it seems we've had a ton of bad luck washing it all away. I'm ready to put the negatives behind me and focus on what's important – Kansas", added Davis.
In six series starts during the 2017 season Davis has notched just one top-5 to go along with three-top 10 finishes.
"Everyone wants to end the season on a high note – I know I do and know my guys want to. Everyone works hard at this and the success will come. Nothing would be better than ending it from victory lane."
Venturini Motorsports with 44 all-time ARCA Racing Series team victories has earned one win at Kansas Speedway with driver Alex Bowman in 2011. The team has also won (4) General Tire Pole Awards at the 1.5 mile track with drivers Mikey Kile ('10), Max Gresham ('11), Dylan Kwasnewski ('13) and Daniel Suarez ('15).
Kansas City Appearance
Spencer Davis will join fellow VMS rookie teammates Natalie Decker and Cole Rouse on and off the track at Kansas. Prior to Friday's main event the trio will join Monster Energy NASCAR Cup driver Paul Menard for a special fan autograph meet and greet appearance on Thursday, October 19 (6:30pm-7:30pm) at the area Menards store located at 8901 N Greenhill Road, Kansas City, Missouri.
Kansas ARCA 150 kicks off Triple-Header Weekend
The Kansas 150 also serves as the show-opener for big triple-header weekend of racing to include the NASCAR Xfinity Series Kansas Lottery 300 Saturday and the Monster Energy Cup Series Hollywood Casino 400 Sunday.
The Kansas 150 marks the 17th consecutive ARCA race at Kansas since the series debuted on the 1.5-mile superspeedway in 2001. Practice for the Kansas 150 is from 9:30 to 11:30 a.m. Oct. 20, followed by General Tire Pole Qualifying at 2:30 p.m. The 17th Kansas ARCA 150 is scheduled to get the green flag at 7:47 p.m. Fridaynight, with live coverage on FS2. ARCAracing.com will also feature Live Timing and Scoring and Live Chat of all on-track activities.