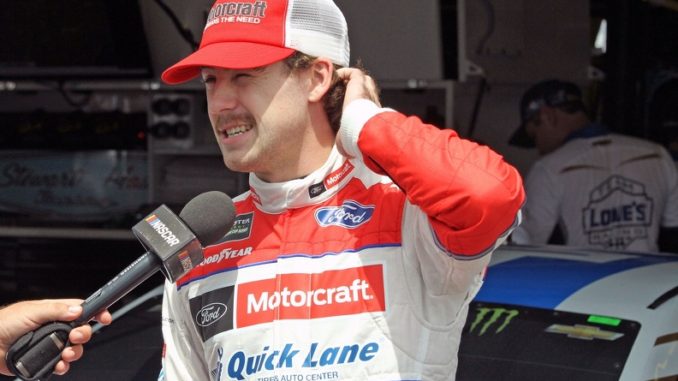 If Ryan Blaney and his No. 21 Omnicraft team had their pick of race tracks to run the elimination race of the Round of 12 of the Monster Energy Cup playoffs, they'd likely pick Kansas Speedway, the site of Sunday's Hollywood Casino 400.
Blaney made his Cup debut at Kansas in 2014, driving a Team Penske Ford. Since moving to the Wood Brothers No. 21 the next season, Kansas has statistically been his best track.
He has three finishes of seventh or better in four Kansas starts in the No. 21 Fusion with an average finish of 7.5. He won his first Cup pole there in May, and set a career record for points earned in a single race with 51.
In that Go Bowling 400, he led 83 laps, finished third in Stage One and won Stage Two before finishing fourth at the checkered flag.
Blaney, who will carry the colors of Omnicraft for the second time this season, enters this weekend's 400-miler seventh in the points standings, two points ahead of eighth-place Jimmie Johnson and nine ahead of ninth-place Kyle Busch. The bottom four drivers in the playoff standings will be eliminated from championship contention after Sunday's race.
Team co-owner Eddie Wood said he's happy to have come this far in the playoffs and hoping to make it to the third round.
Wood said the team will be focusing on earning stage points, beginning with practice and qualifying on Friday. A top starting spot means there are fewer drivers to pass to be among the top 10 and thereby earn points in the first stage.
Stage points have been key to the success Blaney and the No. 21 team have enjoyed throughout the season.
Through Talladega, Blaney has earned 193 stage points. He's won four stages, plus a win at Pocono Raceway, and scored 17 top-five stage finishes and 36 top-10s.
"We saw how important stage points are last week at Talladega, and it'll be the same this week at Kansas," Wood said. "The 18 points Ryan earned in the first two stages at Talladega allowed us to move up four spots in the standings even after wrecking out of the race."
Wood also said he believes his team's battle for a spot in the Round of Eight will bring extra attention to Omnicraft, which is Ford Motor Company's new brand of quality replacement parts for non-Ford and non-Lincoln vehicles.
The Omnicraft brand, which made its debut in January, is Ford's first new parts brand in 50 years and will give its dealers and the Quick Lane Tire and Auto Centers access to quality parts for any vehicle brought in for service.
"One of the perks of being in the playoffs is that it brings more attention to our car and its sponsor, and this weekend's media coverage will raise awareness for the Omnicraft brand," Wood said, adding that he's cautiously optimistic about the upcoming weekend. "Hopefully we can build on our run at Kansas in May and make it to the Round of Eight."
Qualifying for the Hollywood Casino 400 is set for Friday at 5:15 p.m. (6:15 p.m. Eastern Time), and the race is scheduled to start just after 2 p.m. (3 p.m. Eastern Time) with TV coverage on NBCSN.
Omnicraft
Omnicraft is part of the Ford family of parts brands: Ford, Motorcraft and Omnicraft. Omnicraft is the exclusive non-Ford/Lincoln parts brand of premium aftermarket parts. With more than a century of parts heritage to build upon, Omnicraft provides excellent quality and fit and is a preferred choice of professional automotive technicians. To find out more about Omnicraft, visit www.omnicraftautoparts.com or contact your local Ford or Lincoln dealership.
Wood Brothers Racing
Wood Brothers Racing was formed in 1950 in Stuart, Va., by Hall of Famer Glen Wood. Wood Brothers Racing is the oldest active team and one of the winningest teams in NASCAR history. Since its founding, the team won 99 races (including at least one race in every decade for the last seven decades) and 117 poles in NASCAR's top-tier series. Fielding only Ford products for its entire history, the Wood Brothers own the longest association of any motorsports team with a single manufacturer. Glen's brother, Leonard, is known for inventing the modern pit stop. The team currently runs the Motorcraft/Quick Lane Ford Fusion driven by Ryan Blaney in the famous No. 21 racecar.