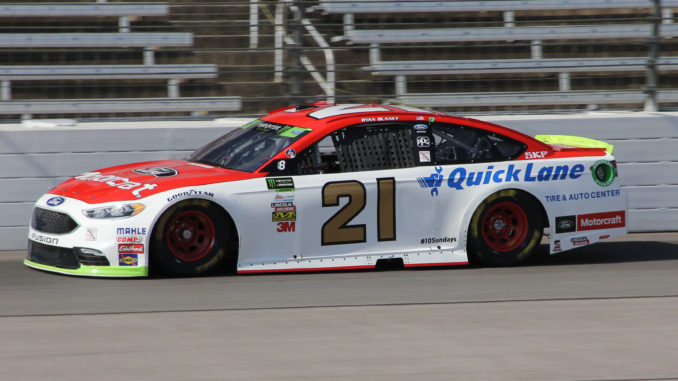 Ryan Blaney may very well be NASCAR's current "Cinderalla Story." The 23-year-old Ohio native impressed the NASCAR community with his famed Wood Brothers Ford by winning his way into the Playoffs at Pocono in June, and has continued to run consistently all season, surviving the first two rounds playoff rounds.
But, he now finds himself on the outside looking on the Championship four. Blaney enters Texas Motor Speedway this weekend six points below the cut-off line, and only two races remaining until Homestead. When asked on Friday if he felt he was in a must-win situation, Blaney dismissed the question; "I don't think it is a must win for us," he told reporters, "I don't think if we don't win this race there is no way we get to Homestead."
The young gun should feel confident about this weekend though. The series pulls into Texas Motor Speedway, where in the spring race this year Blaney led 148 laps, won the first two stages and was seemingly going to easily cruise to victory were it not for a late race pit mistake. Blaney is qualified eighth for Sundays AAA Texas 500, and has been fast in practice all weekend. A victory will send him directly to the Final-Four in Homestead and allow him some breathing room next week at Phoenix.
Lost in all the madness of the Denny Hamlin vs. Chase Elliott hoopla last weekend at Martinsville, was the fact that Ryan Blaney and Kevin Harvick also had their own in-race extra-curricular activities. The two Ford drivers bumped and banged one another for several laps in the middle stages of the race. Then, once the checkered flag had fallen, they confronted one another on pit road (albeit being more peaceful than Hamlin and Elliott).
"Obviously we weren't happy with each other," said Blaney, "Both of us had our conversations and what we were upset about. I feel like we handled it fine. It was a stern talking to. I have a lot of respect for Kevin."
When asked if the situation had been settled, Blaney responded, "we had a talk and I think we are fine. I am sure we are over it. Those were just to reassure that we were good."