Why Chase Elliott's Actions are Different Than Hamlin's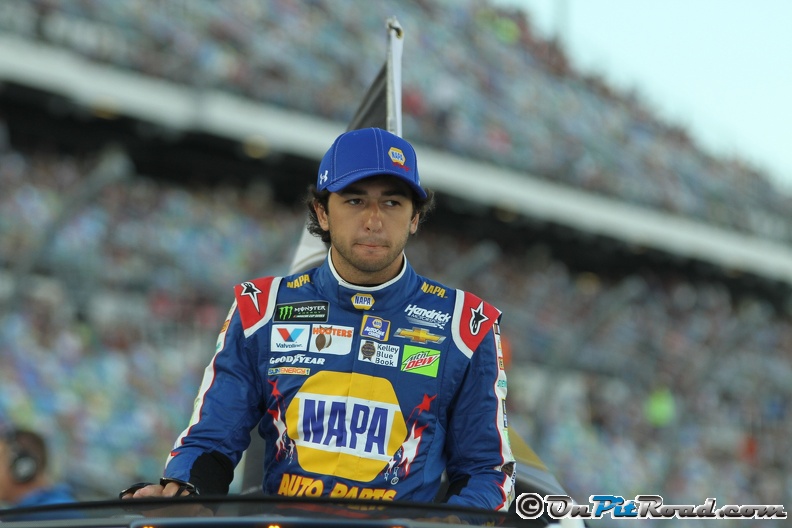 While there may be some similarities between two recent incidents between Denny Hamlin and Chase Elliott, there are some stark differences between the two. To claim Elliott's actions were the same as Hamlin's, would require one to ignore some glaring facts.
Hamlin obviously sees the two incidents as being the same. "I mean, each person had their own opinion of how they do things and it just proved to the people that thought I was a bad guy that he would do the exact same thing in the same circumstances, so, I mean, you know, it's just part of racing. I got into him and he chose to retaliate, so I'm in the garage and that's the way it is", said Hamlin.
Let's review some facts:
Two weeks ago, at Martinsville Speedway Hamlin wrecked race leader, Elliott, in the closing laps of the race taking away virtually any chance of Elliott making the Championship 4 without a win.
Hamlin apologized on Twitter. "I've raced nearly 10,000 races since I was 7. Today was the first time I've ever spun the leader. I regret the outcome because it was not intentional the way it turned out but I'm responsible for my own car and take blame. Nothing I say now can turn back the clock but it's a life lesson and hope no kids out there who aspire to race thinks that's the way you should do it. It's becoming a normal in our sport now and I hate that I'm now in the discussion as a guilty party but I'll move on and hope Chase, his team and fans will accept my apology. DH" This tweet has since been deleted.
In a post-race interview, Hamlin again said it was not intentional. In fact, he justified his actions because a chance at the championship was at stake. "Well he (Elliot) said I wrecked him and obviously, you know Ray Charles saw that. Obviously, it wasn't intentional, I wanted to move him out of the way and there was just not enough grip on the race track for him to save it. There's no difference, he washed the 2 (Keselowski) up the race track as well. I mean, we can play favorites with who we want. Unfortunately, this is a ticket to Homestead at stake."
The issue with these statements is that he did admit he knew Elliott would not make the corner. Also, Hamlin did not even attempt to pass the No. 24. Hamlin had Elliott jacked up 3/4 of the way down the straightaway. So, yes, there is not enough grip on the track when the back tires are basically off the ground.
Also, if it wasn't intentional, then Hamlin obviously did not learn much in those 10,000 races in which he states he has competed. There is also the fact he essentially justifies it with the statement that "Homestead is at stake".
The two drivers had a heated exchange after the race. The Martinsville fans seemed to overwhelmingly be on the side of Elliott even though Martinsville is practically Hamlin's home track.
Following the race, on social media and NASCAR themed radio shows, fans supported Elliott and expressed their displeasure toward Hamlin. Many also called for Elliott to payback Hamlin, while others were sure that Elliott would not stoop to the same level.
There were no issues at Texas between the two drivers. "Paybacks" rarely occur at high-speed tracks due to the danger.
Sunday, in the Can Am 500 at Phoenix Raceway, however, was a different story. Elliott and Hamlin made contact as Elliott was working his way to the front. Elliott gave Hamlin two bumps to let him know he was there. Once Elliott got under Hamlin, he squeezed him up tight off the corner where the Fed-Ex Toyota made contact with the outside wall . Tire smoke began to flow from the back of Hamlin's car. The contact ultimately resulted in Hamlin not advancing to the Championship 4 at Homestead due to a blown tire. The No. 24 Hooter's Chevy, went on to take the lead.
Many say Elliott retaliated. Perhaps that's true. Elliott did not, however, get to the back bumper of the No. 11 and dump him the first chance he got. He did race him hard and give him no room. After all, Homestead was at stake, right?
Several laps later, eventual race winner, Matt Kenseth, caught the No. 24 and began to work his way around him for the lead. Kenseth never touched Elliott and Elliott never touched Kenseth, even though Homestead was still at stake.
As one can see, there is obviously a major difference here. Not only did Elliott not dump Hamlin, he didn't touch Kenseth, even though the stakes were the same. Therefore, Hamlin's insinuation that Elliott would do "the exact same thing in the same circumstances" is proven false. Elliott could have taken out Kenseth, and likely gone on to score his first win and earn his first shot at a series championship, but he didn't.
Elliott said it perfectly after the race at Phoenix – "I'm going to race guys how they race me, and keep a smile on my face regardless." Elliott did just that. Hamlin did not give Elliott that same respect.
Perhaps if Hamlin had followed this same motto, both drivers would be competing for a title in the season finale.
**The opinions expressed on this site are not necessarily those of the publisher, management or staff. All comments other than website related problems need to be directed to the author. (c)OnPitRoad.com. **