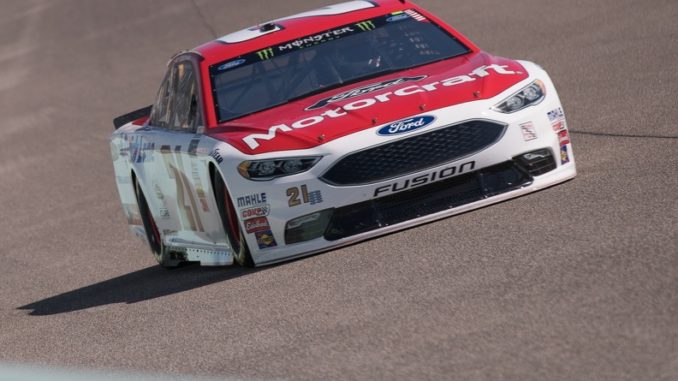 Goal Is to Win 100th for Wood Brothers at Homestead-Miami
DEARBORN, Mich., Nov. 15, 2017 – Ford Championship Weekend will be bittersweet for Ryan Blaney and the Motorcraft/Quick Lane Racing team at Homestead-Miami Speedway.
The Ford EcoBoost 400 as the final race of the three-season Wood-Blaney partnership provides the bitter while the sweet is a celebration of a very successful 2017 Monster Energy NASCAR Cup Series campaign.
Blaney's first career win, his two poles and his deep NASCAR Playoffs run is plenty to celebrate. As is the Wood Brothers' best season since 1995 when Morgan Shepherd drove the iconic No. 21 to sixth in the driver standings.
There is, however, one goal left to accomplish – getting the Woods their 100th NASCAR premier series win.
A top-10 qualifier in his first two runs at Homestead, Blaney needs to stay out of trouble early in the race to improve on his previous results at the track to have a chance at his second career win and the Woods' landmark 100th.
In 2015, Blaney started sixth but had a bad re-start on worn tires after the event's first caution period that sent him back to 31st. He battled back to finish 17th.
Last season he started eighth, had an early race brush with the wall that caused a flat tire, lost a lap and finished 26th.
RYAN BLANEY
On His Last Start for the Wood Brothers:
"I have mixed emotions about the last start. It's been a great past couple of years. My main focus is trying to win for the Wood Brothers one last time."
On Getting the Wood Brothers Their 100th Victory:
"It's really all I've been thinking about. I️ want to be the guy who gets number 100 for them. That's something huge."
On Giving the No. 21 Its Best Season Since 1995:
"I️ haven't really thought about the points deal since we got knocked out, but that's a good stat. Hopefully we can finish the best we can."
On Homestead-Miami Speedway:
"Miami is a fun place. You can move all around the track from top to bottom. It's a great place to end the season. It's a shame we're not racing for the championship, but we can still try to win the race."
RYAN BLANEY HOMESTEAD FAST FACTS:
Is eighth in the driver standings
Has four top-five finishes in 2017
Has 14 top-10 finishes in 2017
Led 301 laps so far this season
WOOD BROTHERS HOMESTEAD FAST FACTS:
This will be the team's 19th start at Homestead
Has two top-10 finishes at the track
Best finish was ninth (Elliott Sadler in 2002 and Ricky Rudd in 2004)
CREW CHIEF JEREMY BULLINS
On the 2017 Season:
"Although we were planning to be in the Championship Four, if you stand back and look at our season objectively you have to say it was a great year. A win, two poles, four stage wins, 14 top 10s and a deep Playoff run is something the entire team can be proud of.
On Winning 100 for Wood Brothers Racing:
"Now, we just need to finish strong at Homestead and give the Wood Brothers their 100th Cup win. We can do that if we continue to do our jobs at the level we showed during the Playoffs."
WEEKEND TV SCHEDULE ON NBC, NBCSN & CNBC (All times Eastern):
Friday         Nov. 17, 12:30-1:55 p.m., Practice, NBCSN
Nov. 17, 6:15 p.m., Qualifying, NBCSN
Saturday    Nov. 18, 10-10:55 a.m., Practice, CNBC
Nov.18, 1-1:50 p.m., Practice, NBCSN
Sunday       Nov. 19, 2:30 p.m., Ford EcoBoost 400, NBC
About Motorcraft
Motorcraft® offers a complete line of replacement parts that are recommended and approved by Ford Motor Company. From routine maintenance to under-hood repairs, Motorcraft parts offer exceptional value with the highest quality and right fit at competitive prices. Motorcraft parts are available nationwide at Ford and Lincoln dealers, independent distributors and automotive parts retailers are backed by Ford Motor Company's two-year, unlimited-miles Service Parts Limited Warranty. Ask for Motorcraft by name when you visit your local auto parts store or your favorite service facility. For more information, visit www.motorcraft.com.
About Quick Lane Tire & Auto Centers
Ford's Quick Lane Tire & Auto Center offers routine vehicle maintenance such as oil and filter changes, light repair services including brake repair, and tire replacements on all vehicle makes and models. With more than 800 locations and growing, customers can visit  www.quicklane.com to find a center that is closest to them, print savings coupons and review maintenance tips to keep their vehicles running at peak efficiency. This site includes information on how to spot tire wear, how to jump-start a battery and even a series of tips to improve a vehicle's fuel economy.
Wood Brothers Racing
Wood Brothers Racing was formed in 1950 in Stuart, Va., by Hall of Famer Glenn Wood.  Wood Brothers Racing is the oldest active team and one of the winningest teams in NASCAR history. Since its founding, the team won 98 races (including at least one race in every decade for the last seven decades) and 118 poles in NASCAR's top-tier series. Fielding only Ford products for its entire history, the Wood Brothers own the longest association of any motorsports team with a single manufacturer. Glenn's brother, Leonard, is known for inventing the modern pit stop.  The team currently runs the Motorcraft/Quick Lane Ford Fusion driven by Ryan Blaney in the famous number 21 racecar.