Danica Patrick's Shot at Daytona 500 Ride Dwindling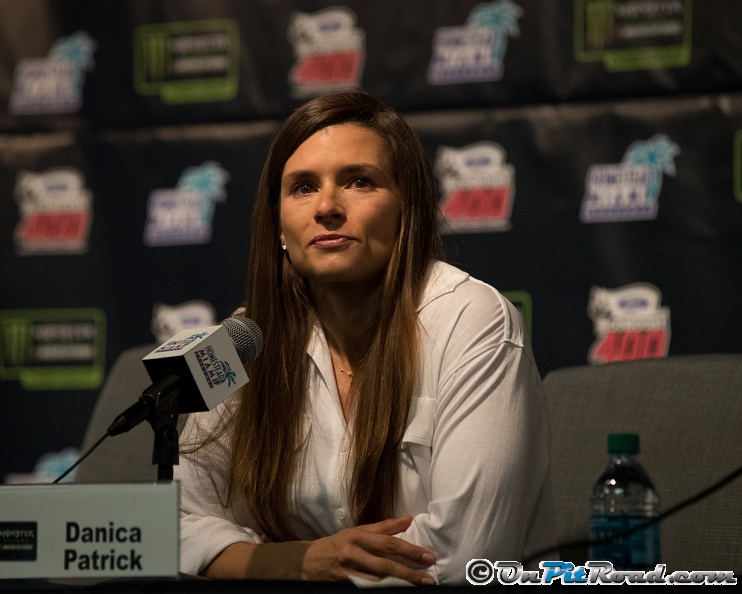 It's only 43 days until the Daytona 500, and even fewer days before Speedweeks actually begin.
Inside of those 43 days will be an attempt by Danica Patrick to put together a ride for the final time in her Monster Energy NASCAR Cup Series career.
Prior to the 2017 finale at Homestead-Miami Speedway, the former Stewart-Haas Racing driver announced her intention to retire from full-time competition as a race car driver. She also announced during the same press conference that she intended on landing a ride for both the Daytona 500 and this year's Indianapolis 500 before capping off her career. It was supposed to be her chance at riding off into the sunset, though it's been a bigger challenge than she anticipated.
"I thought it was going to be a quicker process, but you can't rush things," Patrick said during a conversation with Mike Bagley and Pete Pistone on SiriusXM NASCAR Radio's The Morning Drive.
"I'm a big believer more and more all the time of letting things flow and just letting things take shape in the way that they would," she said. "And that's kind of why I ended where I ended with finishing up my full-time career last year and doing the Daytona 500 and the Indy 500 for this year. I didn't push anything, I just let things flow and it's turned out to be just perfect."
Now, just about a month and a half out from her final excursion in NASCAR, the 35-year-old is still on her search.
She admitted the hunt for a quality drive has been more difficult than expected, but the question becomes; what made her think this was going to be easy?
One-race deals in NASCAR aren't as common as they once were, especially with NASCAR's charter system. Let's also not forget the reason she was ousted from her opportunity at Stewart-Haas was because of lack of sponsorship. That is, of course, going to make it more challenging to find a sponsor willing to step up, and a team willing to run an extra car ahead of the biggest race of the season.
Another big hindrance for Patrick in her quest is the fact that she's limited herself.
She's said time and time again that she will make considerations for teams in good equipment. That's a fair point, but at Daytona International Speedway, good equipment isn't often the measure of a good result. We saw two underfunded teams in Premium Motorsports and Go FAS Racing score top-10 finishes in last year's running of the 500.
The fact of the matter is this journey of finding a ride for the Great American Race was going to be tough from the get go. Limiting herself in terms of opportunities has made things more challenging.
Now, being only a handful of weeks away the race, Patrick finds herself in a position where she may not find a ride at all.