Natalie Decker Ready to take Flight; Daytona Debut Next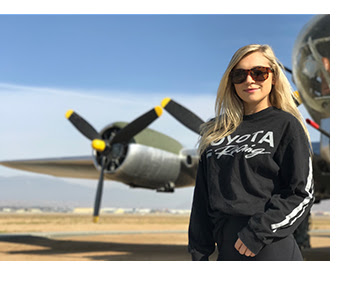 Daytona Beach, Fl. (February 7, 2018) – Three months after unveiling her 2018 ARCA Racing Series presented by Menards full season schedule the day has finally arrived for 20-year old rookie driver Natalie Decker.
Decker, driving for Toyota aligned Venturini Motorsports (VMS), kicks-off the new season this weekend in ARCA's premier season opening Lucas Oil 200 – Driven by General Tire event at Daytona International Speedway.
Driving VMS' flagship No.25 Toyota Camry, Decker's journey begins Saturday when the dynamic driver showcases sponsorship support from N/29 Capital Partners and YAMAHA Power Products during her highly anticipated Daytona debut.
Aiming for a national championship and rookie of the year honors, the popular Eagle River, WI driver is taking the extra attention in stride.
"This is a dream come true," says Natalie Decker.
"A year ago at this time I was back home in Wisconsin watching this race and working on trying to put a deal together to run a few ARCA races with Venturini Motorsports. Today I'm at Daytona with a full season ride, getting ready to compete in the biggest race of my career. It's just crazy."
"I've been preparing myself for this moment as long as I can remember. It's easy to get distracted with all the extra hype surrounding Daytona. But right now my only focus is doing my job. I'm really excited. VMS built me a fast Toyota and now it's time to drive it."
Decker received her first taste of Daytona's famed 2.5-mile track when she participated in last month's series open test. During the two-day session Decker impressed topping single car practice run speeds.
Making her Superspeedway debut at Daytona, Decker will rely on the guidance of veteran crew chief Dave Leiner and Monster Energy NASCAR Cup Series spotter Eddie D'Hondt.
Splashing onto the ARCA tour midway through the 2017 season, Decker made six series starts highlighted by two top-10 finishes and a career best seventh-place finish at Road America.
Decker, the only woman running this year's full season schedule will become just the fifth female in ARCA history to compete for a series driver championship, joining Shawna Robinson ('00), Christi Passmore ('03 and '04), Milka Duno ('13) and Sarah Cornett-Ching ('15).
The Lucas Oil 200 Driven by General Tire is the first of 20 races on the 2018 ARCA Racing Series presented by Menards schedule. Practice begins Thurs., Feb. 8 from 4 – 6 p.m. EST. Final practice is Friday morning, Feb. 9 from 9:30 a.m. – 10:30 a.m. Group qualifying is set for 3:30 p.m. Friday afternoon. The Lucas Oil 200, which begins the 66th consecutive season for ARCA, is set to get the green flag at about 4:50 p.m. Saturday, Feb. 10. The race is live on FS1 beginning at 4:30. ARCARacing.com will stream live timing and scoring and chat throughout the entire weekend festivities.