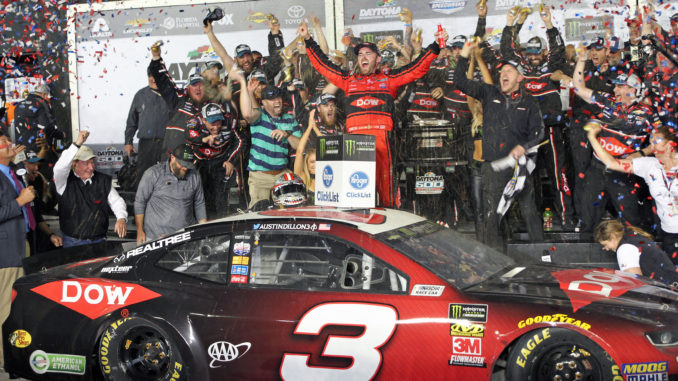 The story basically writes itself – almost 20 years to the day that Dale Earnhardt, Sr. won his only Daytona 500 in the No. 3 Chevrolet for Richard Childress Racing, Childress' grandson, Austin Dillon does the same thing.
Dillon's path to victory was much different than Earnhardt's though. Leading only the final lap opposed to Earnhardt, who led 107 the day he won.
Much like Saturday's NASCAR XFINITY Series race, attrition led to NASCAR Overtime to determine the winner.
Aric Almirola in the No. 10 Smithfield Ford was leading on the final lap, but coming down the backstretch was turned by Dillon after the leading Stewart-Haas car blocked and Dillon moved down the track. Almirola subsequently slammed the outside wall and finished 11th, while Dillon went on to celebrate the win.
Darrell Wallace, Jr., in only his fifth career race and first Daytona 500, capped off a brilliant speedweeks by finishing second in his No. 43 Click n' Close Chevrolet Camaro ZL1 for Richard Petty Motorsports. He was able to hold off Denny Hamlin as the two dueled for the runner-up spot.
Rounding out the top-five finishers were 2015 Daytona 500 winner Joey Logano and JTG Daugherty Racing's Chris Buescher.
Following a dominating performance, Team Penske newcomer Ryan Blaney finished seventh. Blaney led 118 laps, but was involved in a late crash that led to the overtime restart. He suffered minimal damage, but it was enough to take him out of contention to win.
In her final Daytona 500, Danica Patrick finished 35th after being caught up in an early accident not of her doing.