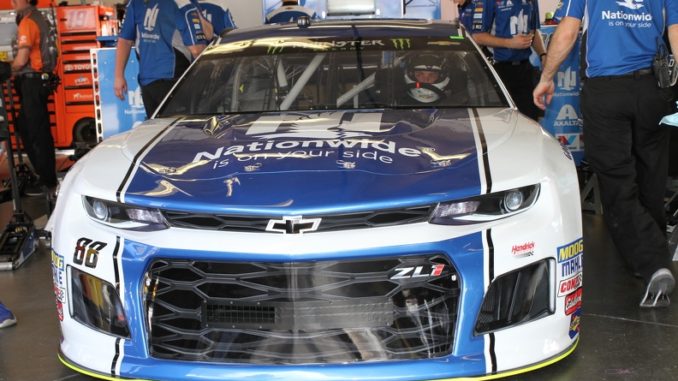 1st – Alex Bowman – No. 88 Nationwide Chevrolet
Daytona 500 appearances: 1
Best finish: 23rd (2014)
Alex Bowman is starting his first race as a full-time driver for Hendrick Motorsports on a good note. He's starting on pole.
Bowman has three Cup Series starts at Daytona with a best finish of 13th in 2014.
A lot of eye will be on Bowman this weekend as he starts from the front in the famous No. 88. The last time he started on pole in the No. 88 he was substituting for injured Dale Earnhardt Jr. at ISM (Phoenix) Raceway in 2016. He led over 150 laps that day and finished sixth.
2nd – Denny Hamlin – No. 11 FedEx Express Toyota
Daytona 500 appearances: 12
Best finish: 1st (2016)
2016 Daytona 500 champion Denny Hamlin starts from the front row along side Bowman after qualifying second.
Hamlin has faced some criticism during Speedweeks after making a comment in an interview that "70 per cent of drivers in the Cup garage are taking Adderall."
The best way to get everyone to forget about that is with a win tomorrow.
3rd – Ryan Blaney – No. 12 Menards/Peak Ford
Daytona 500 appearances: 3
Best finish: 2nd (2017)
Ryan Blaney will be starting in the third position in his first race with a new number, team and…haircut.
It seems that Blaney is still getting used to his new ride as he struggled in practice, but winning his Duel on Thursday and a fourth-place finish in The Clash could prove otherwise.
4th – Chase Elliott – No. 9 NAPA Auto Parts Chevrolet
Daytona 500 appearances: 2
Best finish: 14th (2017)
Chase Elliott is going into this race looking to etch a 'W' in the win column.
Elliott has won his Duel race each of the last two years, but he still hasn't gotten a win in a points race.
During the offseason, Elliott changed numbers from the 24 to 9. The No. 9 was made famous by his father, Bill Elliott.
5th – Joey Logano – No. 22 Shell/Pennzoil Ford
Daytona 500 appearances: 9
Best finish: 1st (2015)
Joey Logano is starting his 10th season as a full-time Cup series driver this weekend for Team Penske. He has 18 wins so far in his cup career, with one coming in the 2015 Daytona 500.
6th – Kevin Harvick – No. 4 Jimmy John's Ford
Daytona 500 appearances: 16
Best finish: 1st (2007)
Tomorrow will be Kevin Harvick's 17th Daytona 500.
Nicknamed "The Closer," Harvick knows how to be near the front at the end and capitalize on other's mistakes to get a win. The only time Harvick won the Daytona 500 was in 2007.
7th – Darrell "Bubba" Wallace Jr. – No. 43 Click n' Close Chevrolet
Daytona 500 appearances: 0
Darrell Wallace Jr. has a lot of eyes on him this weekend. He replaced Aric Almirola to drive the Iconic No. 43 for Richard Petty Motorsports.
Wallace, the first African American driver to compete in a Cup race since Bill Lester last did so in 2006, has been impressive during the practice sessions, including being fastest in final practice. He also impressed by finish third in his Duel on Thursday.
8th – Erik Jones – No. 20 DEWALT Toyota
Daytona 500 appearances: 1
Best finish: 39th (2017)
Erik Jones is going into his second full season in the Cup Series.
Jones came close to winning on a few occasions last season while driving for Furniture Row Racing. Over the offseason, Jones changed teams and is now driving the No. 20 for Joe Gibbs Racing.
It would be a great start to Jones's sophomore season to get a win at the biggest race of the year.
9th – Ricky Stenhouse Jr – No. 17 Fastenal Ford
Daytona 500 appearances: 6
Best finish: 7th (2014)
Ricky Stenhouse Jr. has to be one of the favorites to win tomorrow's Daytona 500.
Stenhouse Jr. has taken the No. 17 to victory lane in the two of the last three restrictor plate races at Daytona International Speedway and Talladega Superspeedway.
10th – Clint Bowyer – No. 14 Rush Truck Center Ford
Daytona 500 appearances: 12
Best finish: 4th (2009)
Clint Bowyer's last two seasons haven't been at the level of the majority of his career. It could be said that Bowyer fell into a slump during his time at HScott Motorsports in 2016.
Since joining Stewart Haas Racing in 2017, Boywer had six top-fives including a second-place finish in the July Daytona race.
The Daytona 500 may just be the best race to get yourself out of a slump.