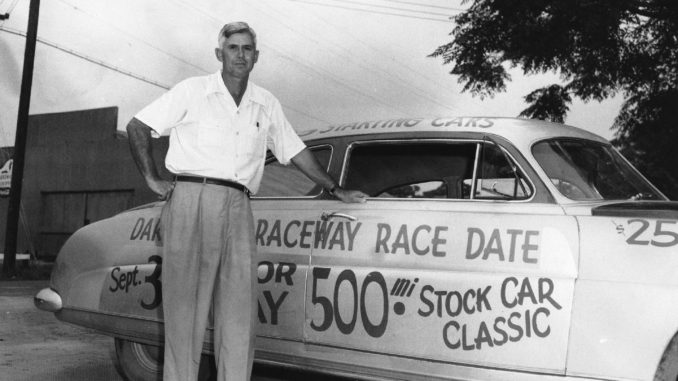 CELEBRATING "7 DECADES OF NASCAR" AT DARLINGTON RACEWAY IN THE BEGINNING: HAROLD BRASINGTON AND HIS PEERS HELPED PUT NASCAR ON THE MAP IN 1950's
DARLINGTON, SOUTH CAROLINA (February 28, 2018) – Darlington Raceway is celebrating "7 Decades of NASCAR" for its Bojangles' Southern 500 Throwback Weekend on Sept. 1-2. As part of the celebration, the track Too Tough To Tame is highlighting specific moments in the sport's history, beginning with the 1950's.
With the exception of Martinsville Speedway, which opened its doors to NASCAR-sanctioned events in 1948, the 1950's was a time of rapid growth for the sport.
Many of the industry's most popular racing facilities were built in that decade and still host NASCAR events that are considered the pillars of the sport today, including Darlington Raceway (opened in 1950 and hosts the Bojangles' Southern 500), Charlotte Motor Speedway (built in 1959 and hosts the Coca-Cola 600) and Daytona International Speedway (opened in 1959 and hosts the Daytona 500).
Many people were credited with helping get the sport off the ground in that decade, none more so than NASCAR founder Bill France Sr.
But it was also other visionaries such as Darlington Raceway founder Harold Brasington, that built NASCAR facilities that have stood the test of time. In fact, following the construction of Darlington Raceway, Brasington went on to build Rockingham Speedway (then North Carolina Motor Speedway) in 1965 as well as several other tracks in the South.
He was also Curtis Turner's original partner when Charlotte Motor Speedway was conceived in 1960, before selling his interest to Bruton Smith prior to construction beginning. Brasington was also responsible for the construction of Darlington Dragway and Rockingham Dragway.
"My grandfather loved racing and wanted to do what he could to make the sport more prevalent in the Carolinas, which he accomplished with the building of Darlington, Rockingham and the conception of Charlotte," said Brasington's grandson, Harold III. "He was truly a visionary and pioneer in the early years of NASCAR and was recognized with the NASCAR Hall of Fame's Landmark Award in 2016 for those efforts."
Kerry Tharp, Darlington Raceway Track President, says it was Harold Brasington's lofty thinking that helped spur the growth of NASCAR in the 1950s.
"Harold Brasington had the boldness and creativity that ushered in the superspeedway era for NASCAR," said Tharp. "His development of Darlington Raceway will forever be remembered as a milestone in our sport."
Notable historic drivers and events in the 1950's include:
·         Lee Petty competed in 373 events over the 10-year period, winning 47 of them, including the inaugural Daytona 500. Petty won a series-best three championships in the decade while also scoring the most top-10s and top-five finishes in the era—292 and 203.
·         Herb Thomas was a 48-time winner in NASCAR's top series, scoring all his wins between 1950 and 1956, including the Bojangles' Southern 500 in 1951, 1954 and 1955.
·         A 2014 NASCAR Hall of Fame Inductee, Tim Flock posted all 39 of his career victories during the '50s. His career win percentage was 22.5 percent, which is the highest among all drivers with at least 100 starts in the series. Flock earned 122 top-10s during the 1950s, and only 22 of those were not top-five finishes. Flock won the series championship in both 1952 and 1955.
·         The first Daytona 500 was held at Daytona International Speedway in 1959. Lee Petty and Johnny Beauchamp battled to a side-by-side finish. Although Beauchamp was declared the unofficial winner, Petty was awarded the official victory by NASCAR three days later after reviewing photographs and newsreel footage.
Darlington Raceway's award-winning throwback campaign is The Official Throwback Weekend of NASCAR featuring the Monster Energy NASCAR Cup Series Bojangles' Southern 500® on Sunday, Sept. 2, 2018. The NASCAR XFINITY Series Sport Clips Haircuts VFW 200 will race on Saturday, Sept. 1, 2018. Deposits can be made by calling 866-459-7223 or visiting DarlingtonRaceway.com.
You can keep up with all of the latest news from Darlington Raceway at DarlingtonRaceway.com, on Facebook at Facebook.com/DarlingtonRaceway and on Twitter at Twitter.com/TooToughToTame. Fans are encouraged to post their Bojangles' Southern 500 stories and memories at, #BojanglesSo500 and #SportClips200.