Toni Breidinger, USAC's All-Time Winningest Female, Joins Venturini Motorsports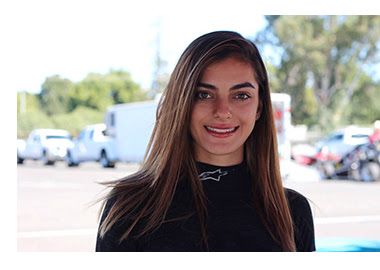 Concord, NC (March 2, 2018) – Announced today, 18-year Hillsborough, California native, Toni Breidinger, has joined Venturini Motorsports and will make three driving appearances during the 2018 ARCA Racing Series presented by Menards season.

Breidinger, USAC's (United States Auto Club) all-time winningest female driver with 14 pavement victories, will make her ARCA Series debut at Madison International Speedway on June 15. Joining an already dynamic team driver lineup, Breidinger's will race in three consecutive ARCA events including Gateway Motorsports Park (June 22) and Chicagoland Speedway (June 28).

With her sights set on becoming a successful driver at NASCAR's highest level, Breidinger began her career behind the wheel of a go-kart at the age of 9. Progressing with age and moving up the ranks, Breidinger began racing midget cars in USAC. In 2014 and 2015 she placed 2nd overall in USAC's Speed 2 Western U.S. Pavement Midget Series driver standings. After a breakout year she went on to claim the 2016 Speed 2 Western U.S. Pavement Midget Series Championship.

"I'm definitely expecting to learn a lot. It's going to be a huge learning experience, but I'm very excited and more than ready to take on the challenge racing in the ARCA series this season," said Breidinger.

"I feel extremely lucky and privileged to be making my series debut racing for Venturini Motorsports. They do an amazing job with developing drivers. The knowledge I will gain from them will be very valuable and beneficial. I am beyond excited to be a part of Venturini Motorsports."

In 2017, further preparing for the next step in her career, Briedinger made her first start in a USAC Silver Crown car then later making her late model stock car debut.

"The USAC cars I've been racing are completely different from the ARCA cars, but racing them has really developed my racing skills. Everything I've learned throughout my 4 years racing USAC will be carried over into the next step of my career. The USAC Silver Crown cars have a lot of horsepower and compete on some of the same short tracks as ARCA so that should help facilitate the transition. Also, I've competed in a few late model races to prepare me for the jump to ARCA. I'm really looking forward to this opportunity."

In addition to racing an abbreviated ARCA schedule, Breidinger will compete in the full six-race USAC Silver Crown Sprint Car pavement series schedule.

For more information on Toni Breidinger visit @ToniBreidinger on Instagram and Toni Breidinger Racing on Facebook.
ABOUT VENTURINI MOTORSPORTS: 
Over the last 35-years Venturini Motorsports (VMS) has evolved into one of the most recognizable names in professional motorsports. Known for long-time dominance in the ARCA Racing Series presented by Menards, Venturini Motorsports is held in high regard as one of the premier NASCAR driver development programs in the county. Since 2007, VMS has specialized in the career development of some of today's top racing talent including current NASCAR "Stars" – Joey Logano, Erik Jones, William Byron, Alex Bowman, Ryan Blaney, Darryl 'Bubba' Wallace Jr., Daniel Suarez, Christopher Bell, Justin Allgaier, Noah Gragson, Ben Rhoads, Ryan Reed, Brandon Jones, Matt Tifft, Brennan Poole, Dalton Sargeant, Justin Haley and Todd Gilliland. Integrity, dedication and continuous innovation paired with years of on-track success has helped define Venturini Motorsports as one of the longest tenured teams in all of modern day racing. In 2012, the Venturini racing family was recognized for their collective achievements and inducted into the National Italian American Sports Hall of Fame (www.NIASHF.org) – now finding themselves enshrined with such sports icons as Joe DiMaggio, Mario Andretti, Chip Ganassi, Andy Granatelli, Vince Lombardi, Tommy Lasorda and Rocky Marciano.