Attention NASCAR Team Owners: Give Ross Chastain a Quality Ride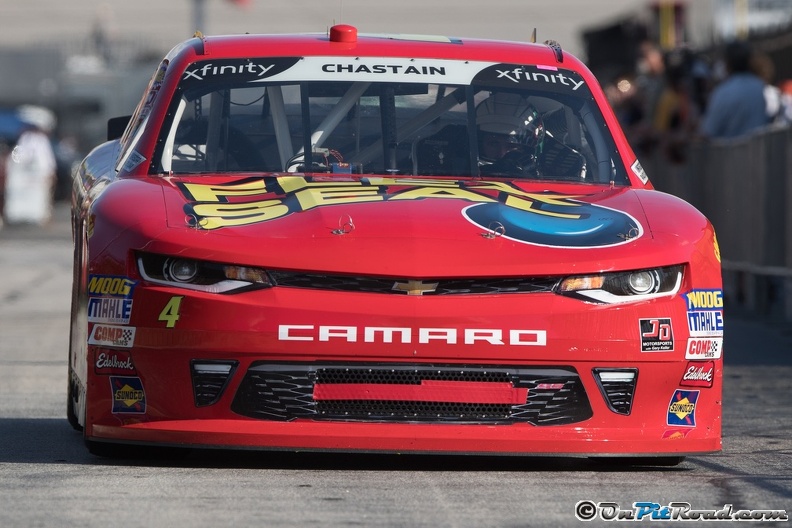 Ross Chastain is a name casual NASCAR fans are beginning to become more familiar with. For people who have been around the sport a long time, Chastain's been a talent folks have been paying attention to for years.
This year, though, Chastain could be in for a breakout season in the NASCAR XFINITY Series. That's why he should be seriously considered for a gig with a big name team.
Over the course of his career, Chastain's had one opportunity in strong equipment. He drove one part-time season in the NASCAR Camping World Truck Series for Brad Keselowski Racing in 2013. In 14 starts that year, he had seven top-10 finishes, led over 200 laps and finished second on two occasions. If he hadn't proven his talent by that point, he definitely did so that year.
In the years since, Chastain has been subject to driving for lesser funded teams with equipment that doesn't match up to the top teams. Despite that adversity, he still finds himself running better than he probably should with the cars he has.
He's driven full-time in the XFINITY Series with JD Motorsports since 2015. In that time, he's scored eight top-10 finishes, including a 10th-place yesterday at Auto Club Speedway. To put that into perspective, this is a team that has been operating on and off since 1983. They have nearly 1,000 starts in the XFINITY Series and a total of 32 top-10s. Chastain has eight of those 32 top-10s. He also tied Joe Thurman (back in 1983) for the team's best finish of fourth. That came at Iowa Speedway last year.
Chastain isn't just lucking into these finishes either. In yesterday's XFINITY race, he ran inside the top-10 for nearly the entirety of the event, only slipping outside the top-10 for a short period of time. Meanwhile, Chastain managed to run ahead of teams with a much bigger budget throughout the race. When the day was all said and done, he had finished ahead of two Joe Gibbs Racing cars, both Roush Fenway Racing cars and a JR Motorsports entry.
His work in the Johnny Davis prepared entries (which by the way, for a small team, is a good organization. This article is in no way a knock on Johnny Davis' team ownership) has attracted the attention of Jay Robinson and Premium Motorsports in the Monster Energy NASCAR Cup Series. Chastain made two starts for the team last year, finishing 20th in his series debut. He also ran at Atlanta Motor Speedway this year with the team through to the completion of today's west coast swing. In his five total Cup starts, he's managed to stay out of trouble in each of them.
We've seen drivers such as Alex Bowman and Ryan Preece attract the attention of high level team owners. Now it's time for the same thing to happen to Chastain. He's shown his talent level. If you give this guy a car capable of winning in any of the top-three series, he can do it.