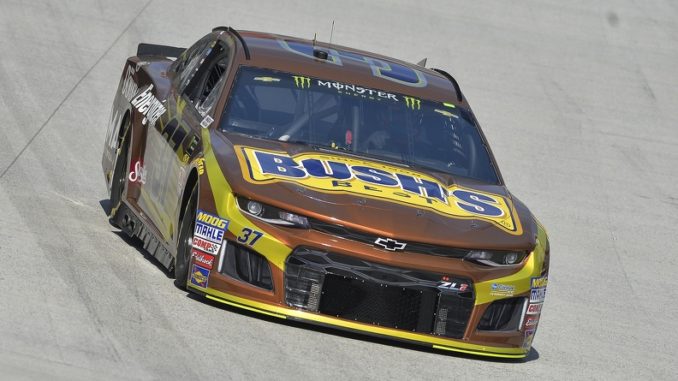 During the closing laps of Stage 1 in the Food City 500 at Bristol Motor Speedway on Sunday, a dominant Ryan Blaney got caught up in a crash that ended his day after leading 99 laps. The incident involving several cars was triggered when the No. 6 Ford Fusion of Trevor Bayne slid up the racetrack and clipped the front end of the No. 37 Bush Beans Chevy driven by Chris Buescher.
"We had three or four of us trying to stay on the lead lap and we were all being held up by the No. 6 (Trevor Bayne). I got a good run on the outside the slower cars and came off the corner and thought we were good, and it just swiped right up the front. By the time you lift, it's a little too late. It's really unfortunate. I love this place. It's my favorite race track that we go to. We had good speed. We've just got to get back after it the next time we come here", said Buescher.
It appeared Bayne did not realize Buescher was there when moving toward the outside wall. A replay of spotter audio, however, revealed his spotter saying "still there" multiple times.
Social media became critical of Bayne following the crash. The Orange Cone summed up the current talk on Twitter with typical comedic spin stating fans say Bayne is bad, and Bayne defending by saying "I won the Daytona 500".
Bayne was also questioned during the media availability at Bristol about his lack of performance. "It's not easy to struggle. It's not easy to be questioned. It's not easy to go to the racetrack even when you're a 15th to 20th place race car every weekend when you know that you can go win and you want to win, you want to prove that you can win. That makes it tough. Normally, people can fight for a short period of time. You can do it for a year. You can struggle for two years maybe and then you hope that you finally come out of that. But we've been battling for a long time."
Bayne has scored one victory with 16 top-tens in 173 starts in the Monster Energy NASCAR Cup Series.
"It's a bummer.  Our Bush's Baked Beans Camaro was really good this weekend. This team worked really hard throughout practice and we made a lot of really good gains by the end of it. We had a really good race car," a disappointed Buescher said.