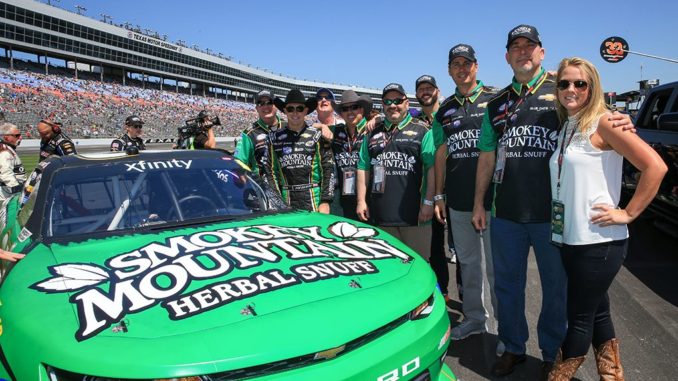 Daniel Hemric has worked his way through the ranks racing. From Legends cars to the NASCAR national touring series. That hard work is paying off in a big way next weekend at Richmond International Raceway as Hemric will compete for a $100,000 bonus in the Xfinity Series on Friday, then he will make his Monster Energy NASCAR Cup Series debut on Saturday.
Things have moved relatively quickly for Hemric who started in the NASCAR Camping World Truck Series in 2013 making only two starts that year with a best finish of 13th at Phoenix driving the No. 6 truck owned by Sharp Gallaher Racing. After making one start in 2014, he received his first full-time opportunity in 2015 with NTS Motorsports.
Hemric performed well in the No. 14 truck scoring four top-fives and 13 top-tens in the 23 race schedule. Hemric ended the season seventh in the series points standings. His performance we good enough to obtain a full-time ride in arguably the best team in the NCWTS, Brad Keselowski Racing.
Hemric's performance improved with the improved equipment. The young driver scored an impressive 11 top-fives and 17 top-tens while also leading 119 laps. He would end the season a solid third in the final points standings.
In 2017, Hemric moved to the NASCAR Xfinity Series to drive for Richard Childress Racing. Hemric turned in another impressive season finding himself with a shot at the series championship at Homestead only to come up short with battery issues.
Hemric's performance has continued to be solid. After sitting on the pole at the season opener in Daytona, Hemric has scored four top-ten finishes in the seven races this season, just missing the top-ten with an 11th at Atlanta.
Thanks to a correction and admission of a mistake by NASCAR, which would have made him ineligible, at Bristol Motor Speedway, Hemric earned eligibility to compete for the Dash4Cash at Richmond on Friday. An opportunity earned by four Xfinity Series regulars at specific races in during the season. Hemric's chances are strong as he started from the pole in this race last spring ultimately finished a strong third.
Hemric's Cup debut will be behind the wheel of the No. 8 RCR Smokey Mountain Herbal Snuff Chevrolet Camaro. "To make my debut at Richmond will make me feel at home, since I spent years coming up through the ranks at short-tracks across the country. To do it again in front of my hometown crowd in Charlotte later in the year is an overwhelming feeling," said Hemric. "Many people have laid everything on the line to get me to this point and I am extremely grateful to all of those people for putting me in position to get this shot in the Cup Series. These are going to be two very special weekends, to say the least."
If history in any indicator, Hemric will quickly adapt to the Cup Series and soon become a series regular.