NASCAR Drivers vs Fans/Media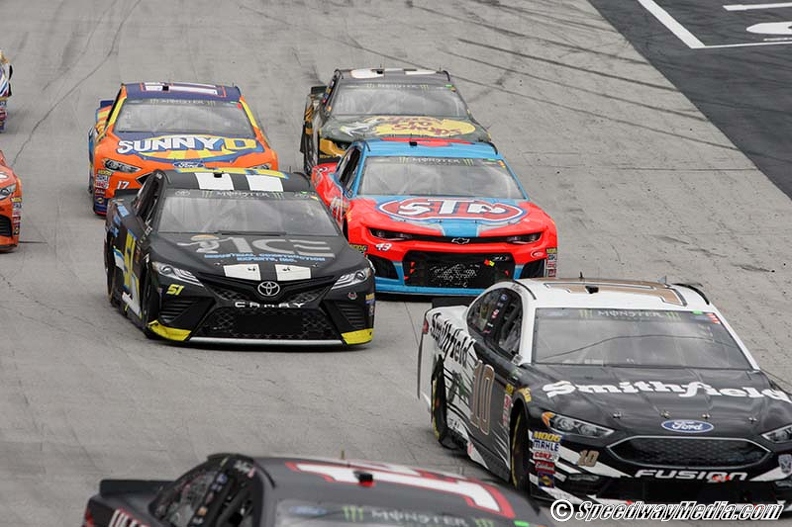 Is it just me or are we beginning to see a bit of a rivalry between NASCAR drivers and some of the fans and media? This is stemming from what people perceive as good racing in NASCAR. And, it's all coming to a head as we approach the All Star Race with the recent rules announcement of restrictor plates and a different aerodynamic package for Charlotte. But, there's not just disagreements over the Charlotte package, there were some drivers voicing their opinion about Bristol this past weekend.
During the Xfinity race on Saturday Kyle Larson tweeted, "I'd like to hear what the fans think of this bottom groove racing. Only thing that's made it somewhat interesting to me is these xfinity guys crashin (sic) it up in the first half. But hey I guess that's what some fans want."
During the rain delay on Sunday, Ryan Newman said that multiple groove racing isn't what the fans in the stands want to see at Bristol.
I disagree with Larson in that a lot of the fans do not want to see torn up cars. But the fans at Bristol over the years became used to single groove, hard nosed, bump and run racing. It was the staple of the track. The tight quarters, high banking, high speeds, and short tempers is what made Bristol a "must see" track on the NASCAR circuit. Being able to run from the outside wall to the apron and everywhere in between is not what Bristol is all about. If someone were to build a track right now, today, that was identical to Bristol in layout with the three wide racing we have watched over the past several years it would get tremendous praise. But that's because it would be a new venue without a rich history and tradition of being one of the toughest tracks on the NASCAR circuit.
See, what some fail to realize is that the fans were perfectly content with Bristol the way it was. Because, to use a catchphrase, "It's Bristol Baby." Since the track was modified, Bristol lost its soul, and apparently most of it's diehard fans. I realize the weather was putrid this weekend and the attendance is most certainly a reflection of poor weather. But, lately, Bristol has not been Bristol. On Sunday and Monday though, we saw glimpses of old Bristol. And I thought it was easily the best race of the 2018 NASCAR season to date. That's not really saying a lot but it was a solid race hampered by bad weather. We saw drivers having to use the art of the bump and run and how to master slower lapped traffic. Busch executed a perfect bump and run on Kyle Larson with less than ten laps to go.
Yet, I still get the sense from reading driver comments and tweets that several were not fans of the racing Bristol produced this weekend. Isn't it strange? The more unhappy the drivers seem to be with the way the racing is the happier the fans are for the most part?
Also, let's talk about Charlotte and the restrictor plates. Busch, among others, have been pretty vocal about their disdain for the All Star Package. Conversly, you have former drivers such as Dale Earnhardt Jr, Jeff Gordon, Darrell Waltrip, Dale Jarrett, and Jeff Burton who are excited about the possibilities of the 2018 All Star Race. The former drivers all want to see the racing more competitive at Charlotte. They all remember what it was like before the words aero push and sideforce became four letter words. Let's face it, the cars are now too fast for the tracks they race on in NASCAR. Something has to be done and, while I fully believe a restrictor plate is just a band-aid over a severed artery, it's at least a start. Can we get a smaller mandated V8 motor so the drivers will have more throttle control but at a much slower speed without the plate needed?
I may catch some flack over this, but I am of the opinion that the drivers in 2018 like the racing the way it is despite the fact the trailing cars have difficulty passing. They'd rather be spread out 2-3 seconds apart for position than actually battling throughout the race. I implore you to go watch some of the 80's to mid 90's racing from Charlotte, Michigan, or Atlanta on YouTube. It's astonishing how closely the cars used to race and battle for position lap after lap and actually race side-by-side as opposed to now where they are lucky if they run more than one corner side-by-side. I'm not saying that I want Daytona or Talladega racing at places like Charlotte, Kentucky, Michigan, etc, but, I would like to see the draft effect of the trailing cars mean more than the effect of clean air. Just watch some of the old speedway races from the 80's and see the draft play a huge effect.
If the 2018 All Star Race package turns out to be a big success with tight racing and a lot of passing it will be very interesting to see how NASCAR handles the situation. Many of the former drivers agree that changes need to be made, along with a great deal of fans, but it seems like most of the current drivers want see the rules remain the way they are. I want to take exception to one thing that Busch was quoted as saying in his comments regarding the All Star package.
Busch said, "People say how great it was back in the day, but you had two guys or three guys on the lead lap sometimes. Richard Petty would win races by two laps at places and now you have 25 cars on the lead lap and competition is as close as it's ever been."
That particular comment has been made by just about anyone when others talk about racing the way it used to be vs now. One thing I would like to point out is the fact that 30-40 years ago the technology of the cars was much less than it is today. It was routine to see ten or more mechanical failures per week, along with cars crashing out of the races due to blown tires or contact. Let's take one of my favorite all time races as an example. The 1988 Coca-Cola 600 at Charlotte saw 43 lead changes among 18 leaders and Darrell Waltrip edging Rusty Wallace by 0.24 seconds.
There were  41 cars that started the event. Of those, there were eight drivers that retired with engine failure and another 10 drivers crashed out of the event. So, out of the field of 41 there were 18 cars that didn't finish the race. The tenth place car of Greg Sacks finished four laps off the pace. There were only six cars that finished on the lead lap. But you know what? It was a thrilling race with a lot of side-by-side racing. And, it could be argued if not for a lot of tire failures leading to crashes and blown motors it would have been an even better race. So yes, in 2018 with stage breaks, free passes, wave arounds, and much better technology in the cars you can have more guys finish on the lead lap, but, does that mean that the racing is so much better because of that fact? This year at Las Vegas, in a 400 mile event with stage cautions, there were still only nine cars that finished on the lead lap and 20th place was three laps off the pace. Doesn't sound that much better to me.
Will this drivers vs fans/media dynamic keep playing out over the 2018 season? I think the All Star Race will be a pivotal event and could shape the immediate future of NASCAR. If the race is great, I believe NASCAR will be compelled to make changes quickly. If the race is lackluster, then NASCAR may have to go back to the drawing board. Either way, I believe that changes are needed and NASCAR finally realizes that. But will the drivers be receptive?
**The opinions expressed on this site are not necessarily those of the publisher, management or staff. All comments other than website related problems need to be directed to the author. (c)OnPitRoad.com. **