Natalie Decker Brings Excitement to First Salem Speedway Start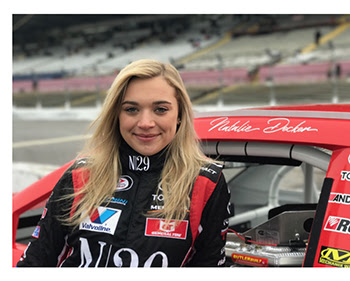 Concord, North Carolina (

April 18, 2018

) – Rookie contender Natalie Decker will make her third start of the 2018 campaign and track debut when the ARCA Racing Series presented by Menards returns to action in 

Sunday's

matinee running of the Kentuckiana Ford Dealers ARCA 200 at Salem Speedway.

Decker, a fan favorite, started out the season winning the General Tire Pole Award and finishing fifth at Daytona and 11th at Nashville, expresses excitement and optimism headed into the weekend. Also to note, Decker's Salem start will mark the energetic drivers' 10th career ARCA appearance since jumping onto the scene last May at Toledo Speedway.

"I'm super excited to make my first start at Salem," says Decker. "I came down with the team (Venturini Motorsports) last year after signing my deal to get acquainted with everyone and watch the Spring race. It didn't take long for me to figure out why drivers like this place. It's really racy with unique turns on both ends of the track – from a fan's perspective it delivers a lot of excitement. I fell in love with this place right away."

"We came down last week and had a really good test with our N29 Capital Partners Toyota. It's definitely a tough track but we learned a lot and made some big gains throughout the day. Dave Leiner (crew chief) and I continue to work really well together and have a lot of confidence going back. As I visit these new tracks this year we'll continue to work hard and set our goals. I grew up racing short tracks but there's still a lot to learn in these ARCA cars. I'm happy with our start so far."

Continuing her efforts to raise awareness about Distracted Driving, the 20-year old driver, will once again feature 'People Against Distracted Driving' (PADD) on the back of her bright red Toyota Camry at Salem.

Decker, the National Spokesperson for the New Jersey based charity, along with her sponsor N29 Capital Partners, will continue to push the message during the month of April (Distracted Driving Awareness Month) and throughout the season.

The Kentuckiana Ford Dealers ARCA 200 is live on MAVTV at 2 p.m. Sunday, April 22. Look for live timing, scoring and chat at arcaracing.com.
ABOUT VENTURINI MOTORSPORTS: 
Over the last 35-years Venturini Motorsports (VMS) has evolved into one of the most recognizable names in professional motorsports. Known for long-time dominance in the ARCA Racing Series presented by Menards, Venturini Motorsports is held in high regard as one of the premier NASCAR driver development programs in the county. Since 2007, VMS has specialized in the career development of some of today's top racing talent including current NASCAR "Stars" – Joey Logano, Erik Jones, William Byron, Alex Bowman, Ryan Blaney, Darryl 'Bubba' Wallace Jr., Daniel Suarez, Christopher Bell, Justin Allgaier, Noah Gragson, Ben Rhoads, Ryan Reed, Brandon Jones, Matt Tifft, Brennan Poole, Dalton Sargeant, Justin Haley and Todd Gilliland. Integrity, dedication and continuous innovation paired with years of on-track success has helped define Venturini Motorsports as one of the longest tenured teams in all of modern day racing. In 2012, the Venturini racing family was recognized for their collective achievements and inducted into the National Italian American Sports Hall of Fame (www.NIASHF.org) – now finding themselves enshrined with such sports icons as Joe DiMaggio, Mario Andretti, Chip Ganassi, Andy Granatelli, Vince Lombardi, Tommy Lasorda and Rocky Marciano.