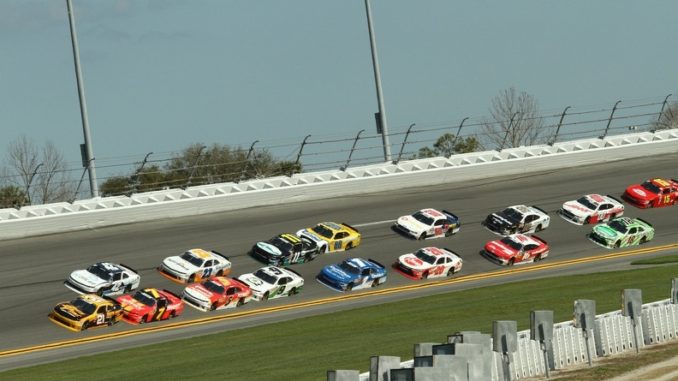 NASCAR needs a bit of a shakeup and it's time for the two lower tiered series to get their own identities.  For the most part, doesn't every NASCAR series feel the same despite different appearing cars and trucks? I believe that the Xfinity cars and the Camping World Trucks have an identity crisis and I'm here to give an alternative that I think could help.
First, let's start with the Xfinity series. We've had these cars on the circuit since 1982 when they ran 29 races from Daytona to Martinsville and Jack Ingram was declared the inaugural champion. Even in the beginning there would be Winston Cup infiltrators in what was then the Late Model Sportsman Series races. In fact, Dale Earnhardt himself won the very first race at Daytona in a Robert Gee owned Pontiac, edging Jody Ridley for the victory. But, over the years we've had more and more Cup drivers in these races to the point where NASCAR has stepped in to reduce that number in recent years.
This past Saturday at Bristol Motor Speedway, with it being a Dash-4-Cash race, there were no NASCAR Monster Energy Cup drivers in the field. Despite that fact, it was a very entertaining race with 13 lead changes among 8 drivers. And I could argue letting these drivers shine on their own without the Cup drivers helped make it a better race. I know it's a real "rock and a hard place" issue though. Many of the sponsors want Cup drivers to run the Xfinity events. I believe limiting the number of starts that Cup drivers can have in the lower series is a good compromise.
But, besides the old "Cup drivers in Xfinity/CWTS" argument I want to touch on something else. I would like to see each of the three major NASCAR series have their own identity. How do you do that? It's all about the schedule!
Currently, there are 33 events in the Xfinity Series. Of those, 29 are companion events to go along with the Cup cars. And for television and logistical purposes that makes sense to a degree. However, with dismal attendance at many of the tracks for these Xfinity and CWTS races, I think a schedule change would help shake things up a bit. A couple of slight modifications to the Xfinity schedule I would make would be to:
Bring back an old tradition of having an Easter race at Hickory.

Replace the April Richmond race with a race at Virginia International Speedway. The two tracks are less than a three hour drive apart and we don't need two Xfinity races at Richmond.

Replace the May Dover race with a race at Barber Motorsports Park in Alabama.

Finally, replace the fall Phoenix race with a race at Mazda Laguna Seca. This would give the Xfinity Series eight standalone events and six road course races.
As far as the CWTS, there are currently 23 races on the 2018 schedule. 18 of those are companion events to MENCS races. I would make the following changes:
Add a companion event to the newly proposed Xfinity race at Hickory on Easter weekend.

The May Charlotte race would move across the street to the Dirt Track at Charlotte.

Replace the fall Texas race with a race at Knoxville, Iowa.
The proposed changes would add one event to the calendar and two additional dirt tracks. The CWTS was founded on short track racing. And I would like to see even more short tracks than I proposed above but I know the need for baby steps. NASCAR can't take all of the companion events away in 2018. But, a couple of minor tweaks would give the CWTS a more grassroots feel. And I believe fans would gravitate to a big companion Easter weekend show at Hickory.
Just a few tweaks to each series could really help them establish new identities. The Xfinity bunch will have more road courses and the CWTS would have a couple of more dirt tracks. And each of them would help bring back an Easter tradition.
What do you think? What would you do to help Xfinity/CWTS get their own identities?
**The opinions expressed on this site are not necessarily those of the publisher, management or staff. All comments other than website related problems need to be directed to the author. (c)OnPitRoad.com. **