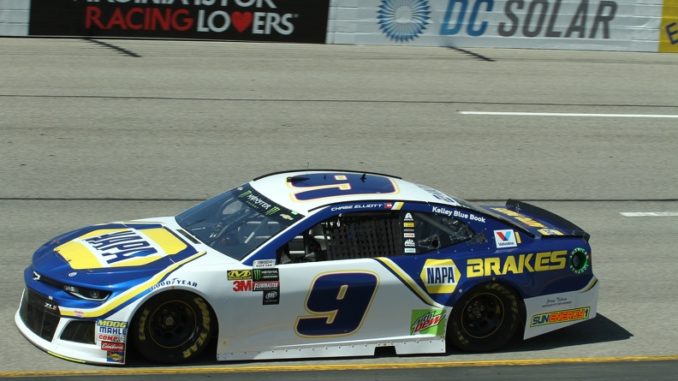 Chase Elliott is under enormous pressure to win. Both fans and media members alike are sounding the call, "Why can't Elliott win?" "Is he overrated?"
The young second generation driver had performed exceptionally well in his Monster Energy NASCAR Cup Series career. Elliott has scored seven second place finishes along with 23 top-fives in just 85 starts. The seven-time series champion and Hendrick teammate, Jimmie Johnson, has scored only 16 top-fives in that same time period.
Austin Dillon, required 165 starts before finding his way to victory lane. Ryan Blaney, on the other hand, won his first race after just 68 starts. Regardless of the impressive stats for Elliott, that fact remains he has yet to visit victory lane and the pressure is on.
Two significant penalties this season have taken their toll on Elliott's position in the points. He currently sits 23rd in the standings, down from what would have been 15th if not for the infractions.
This dismal points outlook only add more pressure for the need to win after making the playoffs and finishing top-ten in the final standings in his first two full-time seasons. Although, Elliott says it's not an issue. "I have not because we are not 15th and we do not have the points that we were penalized for, so it is irrelevant."
Given the enormous pressure to win, one would think that could be the primary driver for the car being found illegal twice this season. No so, says Elliott. It's more about the pressing to win, not pressure to win. "No, I don't think so. Well, I think you're always pressing, right? I want to win. I want to do my job. I'm working on two and a half years of being here and I'd love to earn my spot to stay for a long time. So, I think we all want to do good. Can I say that we're pushing and getting in trouble and doing some things on purpose to have those kinds of things happen? No. Not all of it has been purposeful. But, we're pushing in every area we can just like everybody else is and frankly I have no shame in that and I don't think anybody should."
The key to being successful in NASCAR's top series, is to have good equipment and a good team. One key element the the relationship between driver and crew chief. Elliott indicates his relationship with crew chief Alan Gustafson is good and he is ready for Gustafson, who was suspended for two races, to be back at the track. "Obviously he's not here in person this weekend, so I've been having a lot of dialogue with him. Frankly I let him do his thing and he let's me do mine and I feel like we have a really good working relationship together. He makes my job as easy as it could be and I try to make his job as easy as it could be as well. So, we try to be as straight-forward with one another as possible to what level of hands-on interaction we have with each other? I don't know. Somebody come and watch us and tell us. I don't really know. I haven't had a lot of experience with other pairs to know how much we are or aren't. But we have a good working relationship and I'm looking forward to having him back next week."
Extreme pressure to win can have adverse effects of drivers and teams. In fact, it can actually make it harder to find victory lane. Time will tell if Elliott can quiet his critics and make that elusive trip to the winner's circle.