NASCAR's Limiting of Cup Regulars in Xfinity and Trucks is Paying Off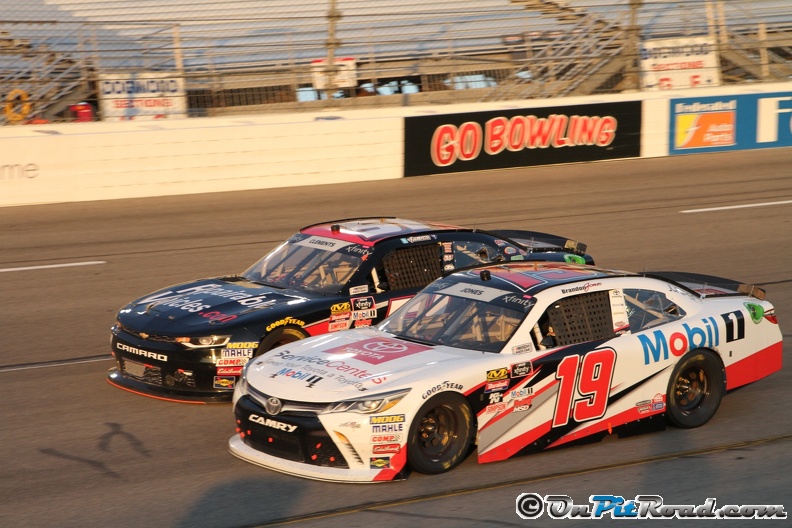 After Friday's Xfinity Series race at Richmond I am fully convinced that NASCAR has made a great decision in its limiting of Cup regulars in the Xfinity and Camping World Truck Series. The rule as it stands is that drivers with more than five years of experience in the MENCS are limited to seven races in the Xfinity Series and five races in CWTS. The rules also make all playoff events for the Xfinity and CWTS off limits for any driver earning championship points in the MENCS, regardless of experience.
I think we had jumped the proverbial shark where it involved Cup drivers racing too much in the lower divisions. I realize there are positives for these drivers running the lower divisions such as these lower tiered drivers getting the opportunity to race up against Cup stars as well as the fact that the added star power of Cup drivers can be beneficial to attendance. Those are the only reasons why I don't think the Cup drivers should be eliminated completely from the lower divisions. Having a Cup driver in an Xfinity or CWTS event should be an attraction that's not seen weekly. That also makes fans want to see their favorite Cup drivers more on Sunday's. After Jeff Gordon ascended to full-time Cup competition in 1993 he ran a grand total of 11 Xfinity (Busch Series) races in the next 22 seasons. Since becoming a Cup regular in 2002, Jimmie Johnson has run a total of 21 Xfinity races. I'm not saying Cup drivers should never have a little fun and dip their toes in the lower tiers but as the old saying goes, "sometimes less is more."
There have always been Cup stars in the lower divisions. The very first official Xfinity (then Late Model Sportsman) race in 1982 at Daytona was won by Dale Earnhardt in a Robert Gee owned Pontiac. Look all the way back to the opening race of the 1989 Busch Grand National season at Daytona. The race was won by Darrell Waltrip and seven out of the top ten finishers were full-time Cup drivers. Of the 40 starters, there were 14 Cup regulars. In the first official CWTS race (then Craftsman SuperTrucks) four out of the top ten finishers were Cup regulars. So it's nothing new and I applaud NASCAR for taking steps to reduce the number of Cup regulars in the lower series over the past couple of years.
Purely looking at statistics let's compare apples to apples. The 2017 Bristol spring Xfinity race was a Dash-4-Cash race but still featured several full-time Cup competitors. They were Erik Jones, Ryan Blaney, Daniel Suarez, Ty Dillon, Kyle Larson, and Austin Dillon. Of the six Cup regulars five of them finished in the top ten with Austin Dillon coming home 12th. In that race there were 15 lead changes among 7 drivers and the race was won by Cup regular Erik Jones.  Last fall at BMS there were seven Cup regulars entered. Five of them finished in the top ten with Dale Earnhardt Jr. in 13th and Aric Almirola coming home 38th after a lap 25 crash. Kyle Busch won the race and there were 11 lead changes among four drivers. Fast forward to the Xfinity Dash-4-Cash race at Bristol last weekend and there were no full-time Cup competitors entered. It featured 13 lead changes among eight drivers. The Richmond Xfinity race this weekend was a good show with Christopher Bell and Noah Gragson battling for the win with Bell edging Gragson by 0.423 seconds. Last fall, the Richmond Xfinity race had Cup drivers sweeping the top three spots and a margin of victory of 3.008 seconds. Just because Cup regulars are in these races doesn't necessarily make them better.
Aside from Daytona, in the five other Xfinity races this year at Atlanta, Las Vegas, ISM/Phoenix, Auto Club/California,  and Texas a full-time Cup driver won every single one of those events. Not only that, but in 713 total laps ran in those events, Cup drivers led 80% of all laps ran. As far as the CWTS, 2018 has had a much improved product on the track thus far in my opinion. Kyle Busch has been the only Cup invader, running the Atlanta and Vegas races. The racing product has been good with each CWTS event providing lots of action.
Has NASCAR found the sweet spot when it comes to how many races Cup regulars can run in the lower divisions? Would you like to see them limit Cup involvement even further than it is now? Tell us what you think about Cup drivers racing in Xfinity and Trucks. We'd love to hear your opinion!
[socialpoll id="2498635″]