Is Kyle Busch Becoming the Modern Day Darrell Waltrip?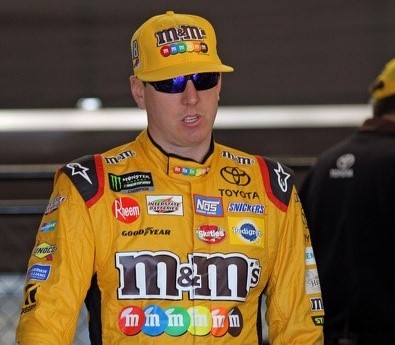 Whether you love him or hate him, Kyle Busch is certainly a polarizing figure in NASCAR. He burst onto the Cup scene in 2004, running six races in a Hendrick Motorsports prepared Chevrolet. Busch got off to a rocky start in his first season with only one finish in the top 25, a 24th place effort at California. He would not even crack the top-30 in his other five starts in 2004.
Darrell Waltrip on the other hand began his Cup career strong running five races during the 1972 campaign. He had a third place finish at Nashville and two other top-tens, at Atlanta and Charlotte.
During Busch's first full 36 race season in 2005 he won two races and had 13 top ten finishes. He would wrap up the season 20th in the point standings. Waltrip would run part time for a few years before running 28 out of the 30 races in 1975 with wins at Nashville and Richmond. Waltrip amassed 14 top ten finishes in those 28 races in 1975, finishing seventh in the points standings.
In his first five years of Cup competition Busch had 16 victories. Waltrip had 22 wins through his first five full time seasons. During the first five year stretch, Busch's average finish was 15.7 and Waltrip's average finish was 11.72.
Besides purely looking at statistics there are other very striking similarities between the two. When Waltrip first hit the NASCAR scene he was a young, brash driver that didn't mind saying what he felt and wasn't intimidated by the likes of Richard Petty, Cale Yarborough, Bobby Allison, or Buddy Baker. It was Yarborough that gave Waltrip the nickname "Jaws." Waltrip's mouth drew the ire of fans for years and contributed to that nickname given to him by Cale. In fact, once after a crash, he invited the fans that cheered his crashing to come and see him at a Kmart.
Similarly, Busch hit the NASCAR circuit not backing down from Jeff Gordon, Tony Stewart, Carl Edwards, Dale Earnhardt, Jr, or Jimmie Johnson. He had several dust ups early in his career earning him nicknames like, "Wild Thing" and "Rowdy." A crash between Kyle and brother Kurt in the 2007 All Star Race had the brothers at odds for more than six months. A 2008 accident at Richmond racing for the lead against Dale Earnhardt, Jr turned Busch into one of the biggest villains on the circuit. 
Both Waltrip and Busch have also faced adversity at Daytona International Speedway. Waltrip had a horrendous crash in the 1983 running of the Daytona 500 that gave him a concussion. Waltrip later admitted the he went to the next couple of races with no recollection of being there. In 1990, Waltrip was involved in a practice accident leading up to the Pepsi 400 where he was broadsided by Dave Marcis, breaking his leg and sidelining him until the Richmond race in September. One year later during the running of the Pepsi 400 Waltrip would face another major accident at Daytona. Alan Kulwicki got loose coming out of turn two and went down into Waltrip who was hit by Joe Ruttman. Waltrip's car became airborne after sliding through the grass and hitting a paved access road and he rolled several times down the Daytona backstretch.
Busch has had several hard hits at Daytona himself but none were any bigger or more frightening than the opening race Xfinity Series accident in 2015. That crash sidelined Busch for the first 11 races of the Cup season. Busch, like Waltrip, also suffered a broken leg in addition to a broken foot.
As for "Jaws" Waltrip, he began getting more and more cheers over the years. That cocky and brash driver that had fans buying, "Anyone but Waltrip" shirts started getting applause. Then in 1989, during the running of the All Star Race, Waltrip went from villain to hero in a single moment. Coming to the white flag, Rusty Wallace got into Waltrip's left rear coming out of turn four spinning him out of contention for the victory. Wallace would win the race with Waltrip proclaiming afterward, "I hope he chokes on the $200,000. That's all I can tell him. He knocked the hell out of me." Waltrip would go onto win the Coca-Cola 600 the following week to a thunderous ovation and he would go on to win Most Popular Driver for the 1989 season.
Busch has been the villain for several years in the eyes of many fans. However, there has been a slow shift over these past few years with more and more cheers for the 33 year old Las Vegas native. Some fans cheered his efforts during his remarkable season in 2015 where he came back from the injury to go on and win the NASCAR Championship. But there are other things as well that have slowly started winning over the masses. Like the viral video of Busch, stuck in traffic, after a 2016 win in Martinsville signing an autograph for a shocked fan in the car beside of him. The recent interview on Dale Earnhardt, Jr's "Dirty Mo Radio" podcast addressing their feud also put Busch in a better light among some fans. Then Busch won in Richmond this past Saturday night to a great ovation and even went into the stands to celebrate with the fans. Waltrip, from the booth, commented, "Good man. Great gesture. Proud of you buddy." That's pretty fitting if you ask me. Maybe ol' DW sees a little bit of himself in Busch. 
Are you a Kyle Busch fan? If so, have you always been a Busch fan or are you warming up to him? Kyle Busch, much like Darrell Waltrip before him, was one of the greatest villains of the sport. Now, just like DW in the late 80s, Busch is becoming one of the most popular drivers on the circuit. He looks for his fourth consecutive MENSC victory this Sunday during the running of the GEICO 500 at Talladega.