Christian Eckes Continues Venturini Motorsports' Early Season Dominance with First Career ARCA Victory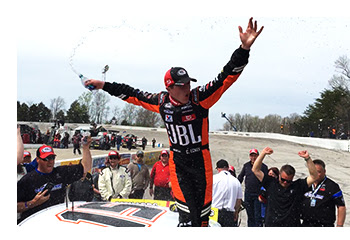 Concord, NC (April 23, 2018) – After so many near misses seventeen year-old Christian Eckes finally got the 'monkey off his back', winning a thriller 

Sunday

 afternoon at Salem Speedway.

Eckes' first career victory is Venturini Motorsports' second on the young season and 46th all-time in ARCA competition.

"I can't believe this…I really can't," said Eckes. "This is the biggest win of my life. This is Salem. It's so hard to win here. I have no words to describe how relieved I am right now and how much this means to me."

Eckes, driving the No.15 JBL Audio sponsored Toyota for Venturini Motorsports, held off a non-stop charge from teammate and pole sitter Chandler Smith for the last 30-laps bringing a packed house to their feet for a dramatic finish as the two drivers circled the half-mile bullring in search for their first victory.

With the white flag in the air, Smith followed in the immediate tire tracks of Eckes as both charged into turn one inches apart. Then, in an instant, Smith cut down a right-front tire as his No. 20 Smith General Contacting Toyota slid up the banking and smashed hard into the wall while Eckes sailed off toward the checkered flag.

Smith was credited with a 10th place finish after the accident.

"It's hard…so hard to look up in the mirror and see that black car charging the way he did," Eckes said. "I have no idea how we held him off for so long…what a day. This is a genuinely tough track to get around…it's just a great day."

The class of the field throughout the day, Eckes and Smith combined to lead 189 of 200 laps on the day.

Smith, 15, earned his second consecutive General Tire Pole Award on Saturday and led a race high of 117-laps in just his second series start. Eckes traded the top spot with Smith a half of dozen times before coming out on top led 72-laps on the day.

Natalie Decker, driver of the No.25 N29 Capital Partners Toyota finished a disappointing 17th in her first trip to Salem. Decker, showing speed, drove her way up to fifth place before being turned in turn-4 and taking heavy right side damage and ending her chances.

Off to a torrid pace, Venturini Motorsports has won two of the first three races on the season (Daytona and Salem) with Michael Self and Christian Eckes and has claimed three consecutive General Tire Pole Awards behind the efforts of Chandler Smith (Nashville and Salem) and Natalie Decker (Daytona).

The next event for the ARCA Racing Series is the General Tire 200 at Talladega Superspeedway on Fridayafternoon, April 27, live on FS1.
ABOUT VENTURINI MOTORSPORTS: 
Over the last 35-years Venturini Motorsports (VMS) has evolved into one of the most recognizable names in professional motorsports. Known for long-time dominance in the ARCA Racing Series presented by Menards, Venturini Motorsports is held in high regard as one of the premier NASCAR driver development programs in the county. Since 2007, VMS has specialized in the career development of some of today's top racing talent including current NASCAR "Stars" – Joey Logano, Erik Jones, William Byron, Alex Bowman, Ryan Blaney, Darryl 'Bubba' Wallace Jr., Daniel Suarez, Christopher Bell, Justin Allgaier, Noah Gragson, Ben Rhoads, Ryan Reed, Brandon Jones, Matt Tifft, Brennan Poole, Dalton Sargeant, Justin Haley and Todd Gilliland. Integrity, dedication and continuous innovation paired with years of on-track success has helped define Venturini Motorsports as one of the longest tenured teams in all of modern day racing. In 2012, the Venturini racing family was recognized for their collective achievements and inducted into the National Italian American Sports Hall of Fame (www.NIASHF.org) – now finding themselves enshrined with such sports icons as Joe DiMaggio, Mario Andretti, Chip Ganassi, Andy Granatelli, Vince Lombardi, Tommy Lasorda and Rocky Marciano.