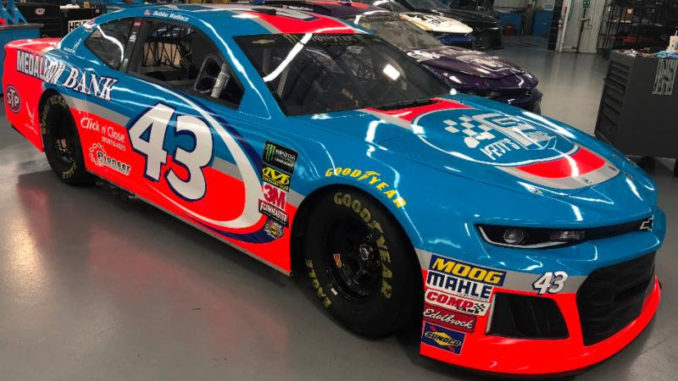 WELCOME, N.C. (April 24, 2018) –
 Richard Petty Motorsports (RPM) announced today, Petty's Garage and Medallion Bank will be the primary sponsors of Darrell "Bubba" Wallace Jr. and the No. 43 Chevrolet Camaro ZL1 team during this weekend's events at the Talladega (Ala.) Superspeedway. Petty's Garage will be on the hood with Medallion Bank on the sides of a new No. 43 Camaro ZL1 built for this weekend.
Petty's Garage, headquartered in Level Cross, N.C., is s speed shop that specializes in production vehicles, restoration and performance upgrades, including high performance packages for the new Chevrolet Camaro ZL1. Petty's Garage has made it easy for fans to get their latest performance parts with a new online store at
www.pettys-garage.myshopify.com
.
Petty's Garage is also the new home of custom built engines. The engine shop that built over 200 wins for Petty Enterprises is now restored with the latest equipment and technology to tune and build high performance vehicles and race engines.
"This is the perfect time for us to get in front of fans and update them on everything that is new at Petty's Garage," said Russ Stellfox, Chief Executive Officer, Petty's Garage. "We've made a lot of progress in the past year, including introducing our new engine program and also our e-commerce store. We hope that all of the fans of Petty and Darrell Wallace Jr. will take time to see our new site this week and over the weekend."
Medallion Bank, has assets over $1 billion and is a recreation and home improvement lending institution based in Salt Lake City, Utah.  The bank specializes in recreation loans, and home improvement loans, . For recreation loans, Medallion Bank offers an alternative financing option to other lenders' credit scoring requirements. Its home improvement loan program gives contractors flexible financing options for homeowners wishing to make improvements.
"Medallion Bank offers a lot to those who do business in the NASCAR landscape," said Don Poulton, CEO of  Medallion Bank. "This is an opportunity to put our name back out there in the sport during one of the biggest race weekends of the year."
Wallace Jr. made national headlines during the season-opening Daytona 500 when he finished second. The car he raced was involved in an accident crossing the finish line, and now the team has a new speedway car prepared for Wallace Jr., who is making his first Monster Energy NASCAR Cup Series at the 2.66-miles Talladega Superspeedway.
"You are just trying to be there at the end," said Wallace Jr. "Talladega, and all the plate races, are about being in the best position at the end and having a car that is capable of getting to the lead. We really showed in the Daytona 500 that our Chevrolet Camaro ZL1 had everything we needed. We're going to Talladega with a new car and we're working hard to make sure we have the same performance."
The GEICO 500 at Talladega Superspeedway is scheduled for this Sunday, April 29. The race will be televised live on FOX at 2:00 p.m. ET and broadcast on Motor Racing Network and SIRIUS/XM NASCAR radio.
About Richard Petty Motorsports
A performance and marketing driven company, Richard Petty Motorsports (RPM), co-owned by NASCAR Hall of Famer Richard Petty and successful business entrepreneur Andrew Murstein, is one of the most recognized brands in all of motorsports. RPM is the winningest team in NASCAR Cup history with 273 wins and has business partnerships with national and global leaders. Today the race operation fields the famed No. 43 in the Monster Energy NASCAR Cup Series with driver Darrell "Bubba" Wallace Jr. The team is headquartered in Welcome, N.C. and is supported by primary partners Click n' Close, STP and the United States Air Force.
For additional information, news and the latest updates, please visit www.richardpettymotorsports.com or connect with RPM on Facebook (Richard Petty Motorsports), Twitter (@RPMotorsports) or Instagram (@richardpettymotorsports).
About Petty's Garage
Founded in 2008, Petty's Garage is a high performance speed shop owned by "The King" Richard Petty. Headquartered in Level Cross, North Carolina, Petty's Garage occupies the legendary Petty facility that produced winning stock cars for more than 50 years. Petty's Garage specializes in performance upgrades, restorations, luxury personal builds, custom builds, supercharged engines, paint and body, exhaust upgrades, brake systems, custom interiors, tires and wheels, custom fabricated projects, and corporate builds. If you can dream it, Petty's Garage can build it. For more information on Petty's Garage, please call 336-495-6651 or visit www.pettys-garage.com.