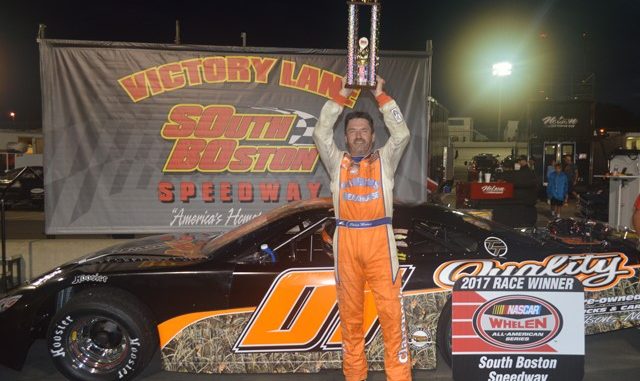 SOUTH BOSTON, Va. (April 25, 2018) – With four NASCAR Whelen All-American Series national championship trophies adorning his house, Philip Morris has been there, done there.
But even with his 53rd birthday looming on 
May 11
, he wants to keep going, keep doing. That's why he'll be rolling south from his Ruckersville home to South Boston Speedway 
Saturday
 for the Autos by Nelson presents the ValleyStar Credit Union Twin 100s.
"We've started the season with that (national championship) mentality and it's looking pretty good for us so far this year," said Morris, who has five wins in nine starts throughout the region this spring. "If you have a great start without that mentality, it can be too late when it comes around and you realize you're in a position to run for the title."
South Boston Speedway has been in Morris' sights since he began planning for the 2018 season.
"I think anybody that is national points minded has to be looking to where the best car count is," said Morris, referring to NASCAR's weekly-racing points structure that rewards drivers for competing in events with at least 18 cars. "No matter how good you are, how much you win, you have to have that car count.
"South Boston has always done a great job of having a strong car count. From everyone I've talked to, I believe that their car count is going to be up this week and for the season."
In what may be the understatement of the year, Morris says "we feel like we can be competitive at South Boston." He won six times at the historic Virginia track in 2017 to up his career South Boston win total to 63.
Morris' first South Boston championship came in 2003, so understandably he believes he has experience on his side this weekend to offset his lack of testing at the track this spring.
"We tested that first test back in March but there were several blown engines that day and the track got slick and we could never get any good laps in," said Morris. "Experience is invaluable, and things are different when you get in a race. When things change on the track, veterans shine through. We've got lots of laps at South Boston, so I think we have as good a shot as anyone."
Any tickets purchased for earlier events which were postponed are good for 
Saturday
 night.
The Martinsville Speedway offer will remain in place for the Autos by Nelson presents the ValleyStar Credit Union Twin 100s. Anyone presenting a ticket stub from either the Alpha Energy Solutions 250 NASCAR Camping World Truck Series race or the STP 500 NASCAR Monster Energy Series race earlier this spring at Martinsville Speedway will be admitted free.
Saturday's
 season-opener will feature twin 100-lap Late Model Stock races, twin 25-lap Limited Sportsman Division races, a 30-lap Budweiser Pure Stock race, a 15-lap Budweiser Hornets race and a 30-lap Mod 4 Division race.
Gates open at 
5:30
, qualifying is at 6 at the first race rolls off at 7 Saturday night. Tickets are just $10 for adults, and new for 2018, children 12-and-under accompanied by a paying adult will be admitted free.