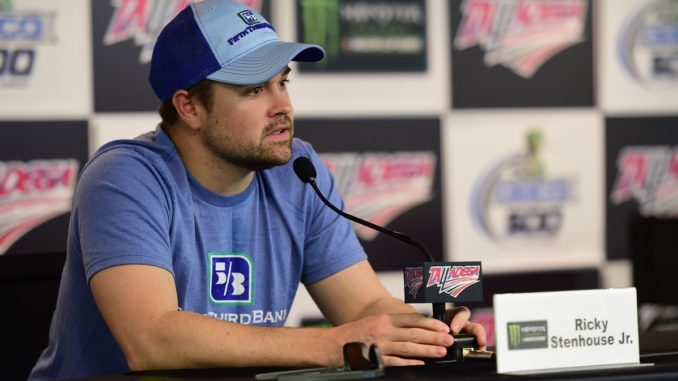 Roush-Fenway Racing announced on Wednesday Matt Kenseth would be returning to the team to share seat time in the No. 6 with Trevor Bayne. During the announcement, RFR President, Steve Newmark, commented on Bayne's reaction to the announcement.  "I think he reacted just the way any of us would.  He's a fierce competitor.  He wants to be in the car every week – Cup, XFINITY, he will drive anything.  We continue to have a dialogue and I think he'll see this as an opportunity to continue to excel, but there's no doubt that when we had the dialogue about it that his first reaction was 'I want to be in the car every week.'  In fact, we wouldn't want it any other way. If we had a driver who just kind of acquiesced, that would be an inherent problem in itself."
The goal is for Kenseth to help improve the performance of the team by assessing the cars and mentoring the other RFR drivers, Stenhouse and Bayne.
During media availability at Talladega on Friday, Ricky Stenhouse was asked for his opinion on the return of Kenseth. Stenhouse seemed very optimistic about the move and, in fact, looks forward to it. "I think having Matt — I got to work with Matt when I was in the Nationwide Series at the time. He would run a couple races with us throughout the year and he was in our Cup cars. I leaned on Matt a lot my rookie year in the Nationwide Series. I called him and would ask him questions trying to figure out when I was struggling. I really had to get back on track. I think he did a really good job with me on that. So fast forward to now, after he left and went to Gibbs and drove different race cars, for me I am looking forward to his feedback on how our cars drive relative to another organization that is clearly one of the class of the field. I think on that side I am anxious to kind of see his feedback. On my side, I think there are a lot of things that I have yet to learn. When some of that is trying to get the most out of the race car without stepping out of the boundaries. I still struggle with that at times. For me I think it will be a win-win for myself and our team."
Stenhouse is the latest RFR driver to visit victory lane scoring wins at Talladega and Daytona. The remainder of the season, however, showed less than stellar performance with only nine top-tens and 56 laps led. Guidance from a veteran like Kenseth could be just what Stenhouse needs to step up his game.
Stenhouse went on to discuss what he thought Kenseth's role would be and how he planned to utilize him. "I don't think Matt is a full-time engineer or anything to come in and change things on our cars by looking at it. I think it will be a little of both. Like I said, I will be asking Matt a ton of questions and Trevor (Bayne) will as well. Trying to get as much feedback as we can on the championship ways that Matt has and winning races. On the driver side, I think it will be up to Trevor and I to ask questions and get that feedback but I think on the car side all of us drivers have certain little things that we like in race cars. I feel like I have kind of got some of my things that I enjoy having in a race car and every time we have it in we run better. I think some of those things that Matt may have had from years past and the previous teams he's ran for might be able to bring some of that over as well."
Bayne then addressed the media at Talladega pointing out that nothing has changed for him, he will still be driving as hard as he can. "I appreciate you all coming out here over to the hauler. The purpose of doing this is because I know how this works and I didn't want everybody wasting their time chasing me around all weekend trying to get a quote. I have a brand new PR guy inside and I would like to break him in the right way. I wanted to get you all together to let you know that first of all, my health is 100%. I am as fit physically, mentally and spiritually as I have ever been to do my job well. The second part is that my desire is still as it has always been since I was five-years-old to come to the track every weekend to contend for wins and championships and be a driver at the top level in the Cup Series. Nothing there has changed. I am still going to pursue that because I feel I have the ability to do that. Right now I don't have much more to add to that. I want to respect your time and I know you have a ton of questions after everything that has happened this week but if you could just allow me to come into the garage and talk to my team and work through this weekend, I would love to have that opportunity. I am here to win Talladega as I had planned to do before any of this. That is what I am going to do. Thank you guys so much. Again, I want to be respectful to you. Thanks."
Stenhouse will be looking to repeat at Talladega this weekend in the Geico 500. Kenseth will make his debut in the No. 6 car at Kansas on May 12th.