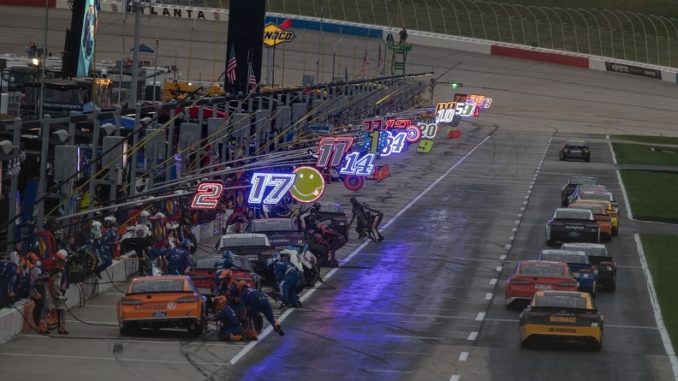 After the GEICO 500 wrapped up this weekend at Talladega Superspeedway, the first 10 races of the Monster Energy NASCAR Cup season are in the books. Here's my top-10 MENCS stories of the year so far:
Clint Bowyer wins at Martinsville
Bowyer snapped a 190-race losing streak dating back to 2012 with an impressive win at Martinsville. He's ran solidly all season and looks to be a real contender for the MENCS Championship in 2018.
Short fields nearly every race weekend
We can't ignore the fact that NASCAR has been unable to get a full field of cars in eight of the first 10 races. The second race at Atlanta only had 36 cars entered, all of the charter cars. With the BK Racing bankruptcy, along with a couple of the other smaller teams having financial problems, will we see fields shorter than 36 cars this summer?
Austin Dillon wins the 2018 Daytona 500
Getting the iconic No. 3 car back in victory circle at the Daytona 500 was a huge deal for Richard Childress Racing. Dillon took the lead on the last lap down the backstretch after contact with then leader Aric Almirola.
The consistency of Joey Logano
Right now, it would be hard to argue against putting some money down on Joey Logano taking home the MENCS title in 2018.
He has nine top-10 finishes through the first 10 races, four top-fives, and a win at the GEICO 500 in Talladega this weekend. Logano is the most consistent driver on the circuit and should definitely be a contender for the championship.
Bad weather
During these first 10 events the weather has been particularly rough this season.
Cold weather, rain, and snow—yes, snow—have plagued several events. The second race of the season at Atlanta was delayed until Monday due to rain, the sixth race at Martinsville fell victim to snow and had to be ran on a Monday, and Bristol had everything but a plague of locusts delay the event until Monday.
Hendrick Motorsports struggles
We all knew that HMS was going through a rebuilding phase. They lost Dale Earnhardt, Jr. to retirement after the 2017 season and replaced Kasey Kahne with a young up and coming phenom. With a lineup of Jimmie Johnson, Chase Elliott, William Byron, and Alex Bowman HMS looked to rebound in 2018.
None of their drivers are in the top-10 in the point standings right now and the team as a whole only have five top-five finishes through these first 10 races.  
Kyle Busch and Kevin Harvick both win three in a row
Harvick won at Atlanta, Vegas, and Phoenix and Busch won at Texas, Bristol, and Richmond. It's not often we see two drivers win three races each, this early in the year. If these two remain hot through the summer and pick up several more wins each, points racing will become crucial for others looking to get into the playoffs.
Matt Kenseth returns to Roush Fenway Racing
However you want to view it, this is a huge story. Roush Fenway Racing has been struggling for the past several years to be competitive. Matt Kenseth was still near the top of his game last season before being shuttered out of the Joe Gibbs Racing No. 20 car.
Kenseth should provide much needed help to the organization, replacing Trevor Bayne in several races beginning at Kansas Speedway in May. The 2003 series champion also brings a new sponsor into the fold with Wyndham Rewards.
The All-Star Race rules package
It's no secret that NASCAR has not had many good races on speedways in the past few years. The cars are too fast, there's not enough tire fall off, the cars are sealed too closely to the ground and the sideforce has gotten ridiculous.
NASCAR is going to try a similar package to the Xfinity package that was ran at Indy last summer. Depending on how this turns out, it could very well shape the future of the sport for years to come.
Lack of lead changes
Through the first ten races of the 2018 season there have been a total of 176 lead changes in MENCS competition. That averages to 17.6 lead changes per race. Last year's total was significantly down as well with 184 and an average of 18.4 lead changes per race. Ten years ago in 2008, that total was 239 lead changes and an average of 23.9 lead changes per event.
It can be debated why this is happening. In theory, with the stage racing, there should be more lead changes with drivers trying to fight for stage points. However, the exact opposite is taking place.