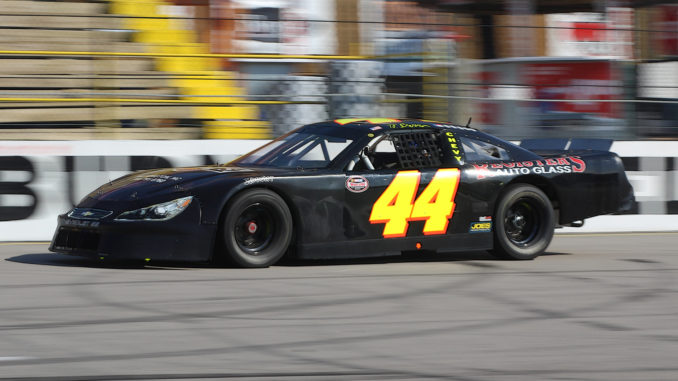 SWANSBORO, NC – T.J. Barron finished in the runner-up position in the first Late Model race of the season at Carteret County Speedway, and now he is expecting to win races.
Barron, 28, from Wilmington, North Carolina is a former champion at Coastal Plains Raceway in Jacksonville, North Carolina.  Last Saturday night, he competed at Carteret County Speedway for the first time in a race.  Barron was fast all race, finished second to 2016 track champion Chris Burns.
"It was definitely a momentum booster," Barron said.  "It's a surprise you could say, and a good way to start the year.  Always good to start the year off on a good note."
After finishing in second, Barron is confident that he can win races at Carteret County Speedway.
"I know I've got a car capable of winning races," Barron remarked.  "I've got people backing me capable of putting cars together and running up front."
Barron started racing Bandoleros in 2000 at the defunct Fireball Raceway Park in Leland, North Carolina.  He then moved up to Legends, and then Late Models in 2007.  In 2010, he won nine races en route to the track championship at Coastal Plains Raceway.
During the day, Barron is a windshield repair technician at Register's Auto Glass, which is also the primary sponsor of his racing efforts.
For more information about Carteret County Speedway, visit the track's official website at www.carteretspeedway.com, "like" Carteret County Speedway on Facebook or follow @carteretcoswy on Twitter.