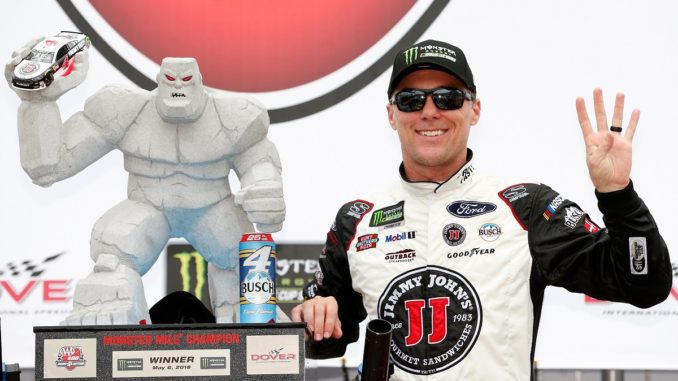 Not even Mother Nature could slow down Kevin Harvick in this race.
Harvick passed Clint Bowyer, his Stewart-Haas Racing teammate, shortly after a restart following a lengthy rain delay and proceeded to cruise to victory in the "AAA 400 Drive for Autism" Monster Energy NASCAR Cup Series race at Dover International
Speedway on Sunday.
The win was Harvick's fourth of the season, his second Dover victory, and the 41st of his stellar career.
"It was just one of those weekends where the car was spot-on from the moment we got here," said Harvick, who swept all of the stage segments.
The entire Stewart-Haas fleet had impressive showings, with Bowyer finishing second, Kurt Busch placing fifth and Aric Almirola coming home 11th.
"We're really proud of our group," said Tony Stewart, Stewart-Haas Racing's co-owner, and a three-time Dover winner. "It's just a bunch of people who have their eye on the prize. When you have four cars that are running as well as these
four did today, it's a great achievement."
Harvick led 201 laps in all, including the final 62, and topped Bowyer by 7.450 seconds, with an average speed of 115.044 mph. Bowyer had held the lead for 12 laps following a 41:01 red-flag stoppage for rain before a slight bobble led
to Harvick's final pass.
"This is a huge momentum builder for our team," said Bowyer, who led 40 laps overall. "You knew [Harvick] was the one you would have to beat for the win. Sheer-speed wise, he was a beat better than us all day long."
Daniel Suarez finished third, followed by Martin Truex Jr. and Busch in the 3:28:37 race.
"[Harvick] was in a different league," Suarez said. "I feel like we are moving in the right direction. We just have to keep it up."
Among former Dover winners, Brad Keselowski led 108 laps and finished sixth, Jimmie Johnson placed ninth and Kyle Busch was 35th after suffering a drivetrain problem.
Dover International Speedway hosts its next NASCAR tripleheader weekend Oct. 5-7, including the Monster Energy NASCAR Cup Series race on Sunday, Oct. 7, the fourth race of the playoffs.
Harvick will likely be a contender again in October, for both a Dover win and his second NASCAR championship. In the meantime, he now has a second Monster Trophy for his son Keelan.
"Miles is pretty popular with the kids," Harvick said. "The day I brought home my first one, he had the arm broken in half. In Victory Lane, I told him, don't break the arm of this one."
# # #
About Dover Motorsports, Inc.
Dover Motorsports, Inc. (NYSE: DVD) is a leading promoter of NASCAR sanctioned motorsports events whose subsidiaries own and operate Dover International Speedway in Dover, Del. and Nashville Superspeedway near Nashville, Tenn. The company
also plays host to the Firefly Music Festival, produced by Red Frog Events and Goldenvoice. For more information, visit
www.DoverMotorsports.com.