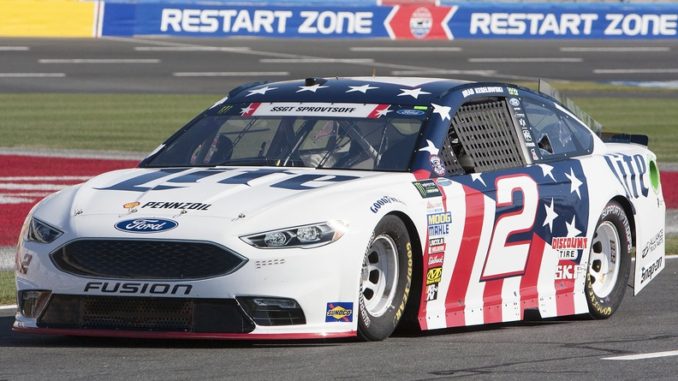 Let's get in the wayback machine and head to 1995. Richard Childress Racing and Dale Earnhardt announced a special one-race paint scheme for the Winston Select, the name of the All-Star Race at the time. RCR announced they would run a special silver scheme to honor R.J. Reynolds Tobacco's 25th year, or silver anniversary, in NASCAR racing. This started a trend of special paint schemes at the All-Star Race which led to special schemes year-round throughout the NASCAR garage.
Now, before I get ahead of myself, I do realize there were a smattering of what one might consider special paint jobs in NASCAR before 1995. During the 1991 Daytona 500, as a part of an R.J. Reynolds promotion, five unsponsored drivers had paint schemes that paid tribute to the branches of the United States Armed Forces serving in Operation Desert Storm. Those drivers were Alan Kulwicki (Army), Greg Sacks (Navy), Mickey Gibbs (Air Force), Dave Marcis (Coast Guard), and Buddy Baker (Marines). Harry Gant also ran a special scheme in the 1994 Hooters 500 at Atlanta in his final race which was based on his 1981 Skoal Bandit paint scheme. But, by and large, the introduction of "special" paint schemes started with the 1995 Winston Select and Dale Earnhardt's "Silverwrench" paint scheme. Of course, special t-shirts, diecasts, and collector cards were made utilizing this paint scheme and a whole new revenue source had been tapped.
In 1996, Earnhardt once again ran a special paint scheme in the Winston Select. He ran a scheme paying tribute to the Olympic games that were coming to Atlanta in the summer. By 1997, there were special schemes popping up all over the place. Earnhardt ran a colorful orange Wheaties scheme in the 1997 running of The Winston. Jeff Gordon introduced the world to the Jurassic Park scheme in the same event and smoked the field en route to the win with the now infamous T-Rex car.  Ernie Irvan ran a throwback Texaco scheme in the event as well. More special schemes were introduced throughout other races on the schedule. Bill Elliott ran his Mac Tonight Ford in several races during the 1997 season.
Then it seemed like everyone was running special paint schemes in various races going forward. The 1998 running of The Winston had Earnhardt in a gold colored Bass Pro Shops car, Mark Martin in a special Synpower Roush Racing ride, Geoff Bodine in a special Philips Ford, and Jeff Gordon in the ChromaLusion DuPont Chevy. The Winston Open that evening even had several drivers running special paint schemes.
Who would have known back in 1995 that a one-off special paint scheme for Dale Earnhardt would really ignite a trend of special paint schemes throughout the NASCAR garage going forward? When you look upon all of the special schemes this weekend in the 2018 running of the All-Star Race remember that it started on a warm spring night in 1995 with the "Man in Black" going silver for one night only.