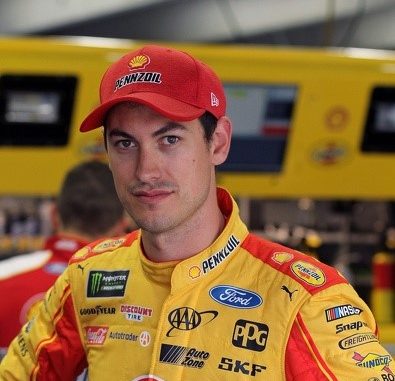 On Saturday, NASCAR added an additional practice for drivers due the weather issues on Friday. The additional practice allowed drivers additional seat time with the new rules package for this year's All-Star race. During media availability following the session, Joey Logano stated the package feels like a hybrid between a typical superspeedway package and more traditional packages.
"It is a hybrid because handling comes into play. At Talladega and Daytona there is some handling but the cars are pretty trimmed out and you are wide open all the way around the race track. If you lift it is just a little bit and the corners are so long you can make different moves in the corners. Here, you are a mile shorter so your corners are sharper and you may not be going as fast but the corners are sharper and the drag ducts change the draft completely and that is a huge deal in the way these things have been drafting today and the way we side draft and get around each other. That has changed it a lot. I think we need to add all that up and when you do it will look different. It is still not Daytona or Talladega no matter what. You are still at Charlotte. It is still going to be different."
Another big difference for this weekend at Charlotte is that drivers have been able to run flat out on new tires when in clean air. When behind other cars, however, drivers were required to lift slightly. This practice session could potentially change that as well. Logano points out the teams will make adjustments to reduce the need to lift off the throttle. "I can't go wide open. I can on new tires, you can at any point when you have clear air because you are going slower and have a lot more grip when you don't have a car in front of you but even on lap one if there is a car in front of you then you can't hold it as open as you want to. You have to go to three-quarter throttle for a second and then back it down. I think everyone will make adjustments and make it better, but the track will cool off and make it more open. The fact we are lifting a little is a good thing."
The goal for the All-Star Race is to create excitement and drama. Drivers racing for nothing more than bragging rights and prize money. For many true racers, the bragging rights are usually more important. NASCAR has repeatedly tried to develop a format and package that lends itself to achieving the goal of putting on a spectacular show for the fans. It sounds as if this year's package may do just that. Logano says being out front will be the key to success.
"I would rather be in the front. It is going to get crazy. We are going to crash some stuff tonight. I think that is pretty apparent. In practice we were all pretty good at giving each other some room and making sure our cars are — at least we have a car for later on. I think towards the end of this race when business picks up, I mean hey, it is the All-Star race. It is the same thing when we come here no matter what package you use. You have nothing to lose and $1million to gain. I think every driver knows that. That whole caring about things kind of goes out the window. You think about winning the race and winning the money. That is what this is about. Whether we are racing tricycles or race cars or what package we have. It doesn't matter when there is that much money on the line there is going to be some aggressive racing and we are going to see that here tonight no matter what, especially when you have a 10-lap shootout. That is going to get pretty chaotic pretty quick. I don't think the last 10 laps will go caution free. Maybe I am wrong but if there are any cars left it might just be about survival. That might be a big deal tonight."
The green flag falls on the All-Star Race at 8pm local time on Saturday.