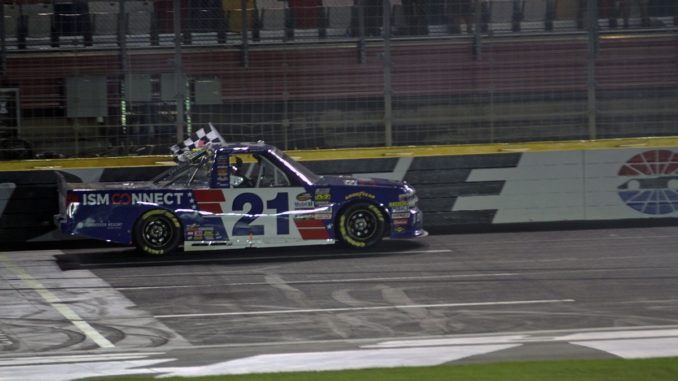 CONCORD, N.C. (May 18, 2018) – In a stirring drive from the pole, Johnny Sauter collected the sweetest win of his NASCAR Camping World Truck Series career in Friday's North Carolina Education Lottery 200 at Charlotte Motor Speedway. Sauter led 71 of 134 laps in scoring his first career win at Charlotte's iconic 1.5-mile superspeedway. The 2016 series champion held strong despite his one-second lead being erased when a caution flag came out with 22 laps to go.
Sauter had an excellent restart, but the GMS Racing driver had to pull away again when the race's final yellow flag bunched up the field for a 10-lap shootout that saw Sauter hold off Kyle Busch Motorsports drivers Kyle Busch and Brandon Jones. Brett Moffitt and Ben Rhodes rounded out the top five with Stewart Friesen sixth, Parker Kligerman seventh and Noah Gragson eighth. John Hunter Nemechek and Todd Gilliland completed the top 10.
Sauter's victory completed a dominant evening for Wisconsin drivers, with Cambridge, Wisconsin, native Matt Kenseth claiming the pole for Saturday's Monster Energy NASCAR All-Star Race and Sauter, from Necedah, Wisconsin, taking the checkered flag in the Truck Series nightcap.
JOHNNY SAUTER, No. 21 ISM Connect Chevrolet Silverado (Race Winner): "I'm just really comfortable with everything we have going on. We are growing as an organization and we just continue to get better and better. This is a big deal for GMS fabrication and all the guys. We do all of our own bodies and chassis in house. So this is a testament to over 100 people's hard work. I'm just the lucky guy that gets to drive this truck. Today we had a good truck in practice and the adjustments the guys made before the race really brought it to life. This is the biggest win of my career. It's been a challenging place. I've had a lot of good runs here and I've had a lot of bad runs here. So this is the big one. I don't know of anybody who doesn't want to win at Charlotte in everybody's back yard. I'm just proud of these guys. It was really fast at the end of the night."
JOE SHEAR JR. (Winning Crew Chief): "Johnny touched on it; it's just a lot of hard work from everybody as a team. I am just so proud of these guys because I see it. We keep digging to get better."
KYLE BUSCH, No. 51 Cessna Toyota Tundra (Finished 2nd): "I got back up to second by pure talent. That's about it. My pit crew did absolutely nothing to help me out tonight. My truck drove like (expletive) and these splitters are absolutely horrendous. You can't pass in traffic; you can't race anybody. You can't get within five truck lengths of anyone."
BRANDON JONES, No. 46 Mobil 1 Toyota Tundra (Finished 3rd): "I raced the best in the Truck Series there at the end. I couldn't be happier. All in all, it was a pretty good day for us. I think I learned some stuff for next week. We got some track time this morning and we did think we were a top-20 truck. I started 28th, kind of started in the back and had to fight all day. The last segment there it came down to two of the best in the business that finished one-two. So, it was pretty good to race the boss man (Kyle Busch) a little bit and be able to hold there as long as we could. This was a one-off deal for us. We have been doing a lot of things to get my racing IQ up."