30 Years Later: The 1988 Coca-Cola 600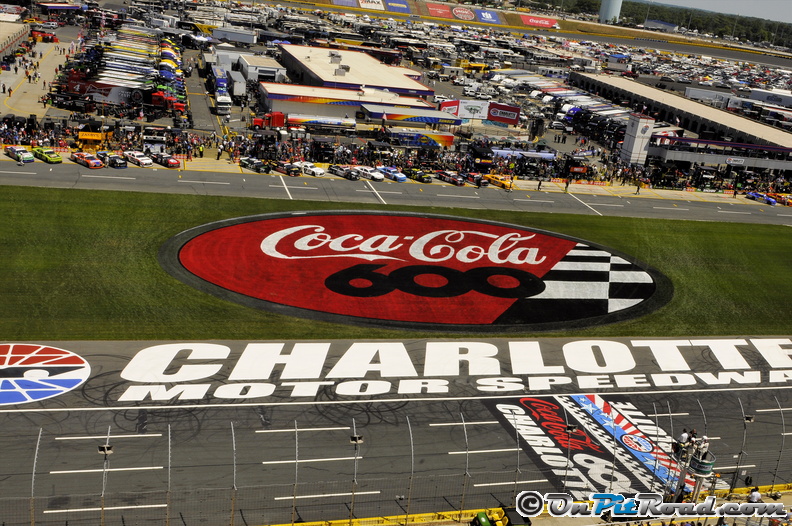 We are approaching the 30th anniversary of the 1988 Coca-Cola 600. So what?
This is one of the races that I point to when telling people what I'd like to see the cars be able to race like in 2018. This is the first one I'm going to send folks to look at when they ask what was so good about the '80s.
I thought, perhaps, some of my fondness for this race through the years was because I still had the original TBS broadcast on a VHS tape. I have realized over the years that it wasn't just nostalgia keeping this near and dear to my heart; this was one of the most exciting races in NASCAR history.
You know how to get someone fired up for a broadcast and set the mood? The very opening scene was Darrell Waltrip describing this race.
"Your car looks like it's been run on a short track, all the fenders are beat up, wheel marks down the side, you got dirt all over your face, your crew's worn out and your worn out, but you've won yourself a great race," he said.
If I didn't know anything about NASCAR and heard that introduction I would at least be intrigued to keep watching.
Then we immediately went to Dave Despain who showed what happened in the Grand National race the day before with Dale Earnhardt and Geoff Bodine having a couple of on-track skirmishes. The tire situation was discussed as many drivers had vicious crashes leading up to the Coca-Cola 600. Goodyear actually pulled out and everyone in the field except Dave Marcis were on Hoosier tires to start the race.
Early in the race there was a furious battle at the front between several NASCAR legends. Davey Allison paced the field early but had several drivers in close proximity to the lead. One of the stories of the day would be the tire wear. By Lap 20, Dale Earnhardt had blistered a tire and NASCAR put out a caution for teams to check tires. Allison had problems in the pits and soon Darrell Waltrip, Bobby Allison, Terry Labonte and Geoff Bodine were all under a blanket battling for the top spot. I'm telling you to go out of your way to at least watch the early part of this race and see how furious these guys were racing near the front of the pack.
A big story in the race happened on Lap 60 when Dale Earnhardt and Geoff Bodine again made contact for the second day in a row with Bodine spinning out and slamming into the wall. Earnhardt was held in the pits for five laps for what was deemed rough driving. In hindsight, the crash really does look like an accident. Phil Parsons made it three-wide down the backstretch under both of them and Earnhardt and Bodine came together. Bodine's car was crashed but repaired and he was able to later return to the race but this accident effectively took both guys out of contention.
There were many different contenders during the race and no one could really establish dominance over the 600 miles. The most consecutive laps led during the entire race was Brett Bodine leading 35 straight laps during the middle stages.
Two drivers that had never won in NASCAR Cup competition really had cars that were capable of winning in Brett Bodine driving the Bud Moore prepared Crisco Ford and Rick Wilson in the Larry McClure's No. 4 Kodak Film Oldsmobile.
Sterling Marlin, another driver who had yet to win a Cup race, was very competitive in the Piedmont Airlines Oldsmobile. He led 18 laps and was running near the front of the field on Lap 169 when he blew a right front tire and slammed into the turn two wall. Marlin entered turn three unable to steer and was hit in the right side door by Dave Marcis who launched into the air and flew from the middle of the track to the outside retaining wall in a vicious hit. Luckily, neither driver was injured.
Rick Wilson looked to be well on his way to his first victory in Cup competition when he suffered a tire failure himself coming out of turn two on Lap 354, under 50 laps to go.. The crash knocked him out of the race. That set a stage for an exciting race to the end with Brett Bodine, Darrell Waltrip, Rusty Wallace, Davey Allison, and Alan Kulwicki all looking like they could take home the win.
Waltrip was able to get around Bodine on Lap 370 but had a strong challenge at the end of the race with Rusty Wallace and Alan Kulwicki both nipping at his heels. You could throw a blanket over those three cars over the final five laps of the event with all of them pushing it to the edge. Waltrip managed to hang on as Wallace made a couple of last ditch efforts really sailing the car off into the corners over the final few laps but he never could pass DW.
I've heard a lot of fans saying these races in the "good old days" weren't really that good because look at how many cars were on the lead lap. Well, this race wound up with only six cars on the lead lap and 10th position was four laps off the pace. Heck, 20th was 61 laps down. It's a shame there were so many tire failures because had several of those guys not had issues there's no telling who may have won. But as it stands, even with a lot of crashed out cars and 20th place being 61 laps down, the race had 43 lead changes and a margin of victory of only 0.24 seconds. It was a 600-mile race that kept you on the edge of your seat the entire four-plus hours. It had drama, excitement and a lot of great side-by-side battles.
As far as the actual racing went, the 1988 Coca-Cola 600 was top notch. When people ask what I want to see in NASCAR as far as racing goes, look no further. The cars could suck up to one another and the draft effect was huge, but they could also run side-by-side and the good cars could still separate themselves. It was about as perfect of a package as they could have had aside from the blistering tires.
At one time you could not beat the racing that Charlotte Motor Speedway was capable of producing. It's been 30 years but there's still something special about this 1988 running of the Coca-Cola 600.
**The opinions expressed on this site are not necessarily those of the publisher, management or staff. All comments other than website related problems need to be directed to the author. (c)OnPitRoad.com. **