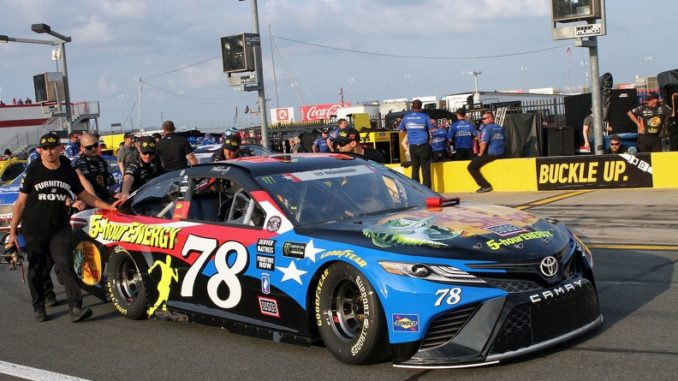 The longest race of the NASCAR schedule is on tap as we approach the 2018 Coca-Cola 600 this Sunday evening. It's hard to pinpoint an exact favorite, but several drivers will be ones to keep an eye on this Memorial Day weekend.
Looking back at the past six events at Charlotte Motor Speedway, the favorite in the clubhouse seems to be Martin Truex, Jr. In these events, Truex has five top-five finishes and two wins, with one coming in the 2016 Coca-Cola 600 where he led an astounding 392 of the 400 laps. He also won last fall in the Bank of America 500 where he led the last 57 laps of the race. Truex has also completed all 2,205 laps ran over those past six races, only one of two drivers to accomplish that feat.
Kevin Harvick is, unsurprisingly, another driver to watch out for in the Coke 600. He's been on an absolute tear in 2018 and riding tons of momentum heading into Sunday evening. He will have to start from the rear of the field, but it's a long race and Harvick should be among the contenders to win. In the past six Charlotte races, Harvick has three top-five finishes and five top-10s. Despite his success, Harvick hasn't been to victory lane at Charlotte in these six events. He has two Coca-Cola 600 wins in the past, both driving for Richard Childress Racing, in 2011 and 2013.
Joey Logano, Jimmie Johnson and Austin Dillon have all won in the past six races at Charlotte. Dillon has the worst stats on paper of those three with only one top 10, the race he won by fuel mileage in last year's Coca-Cola 600. Logano won the fall race in 2015 and ran ninth in the 2016 Coca-Cola 600 but has finished 36th, 21st, and 26th over his past three races there. However, Logano sits second in the 2018 Monster Energy NASCAR Cup Series point standings and will start in second on Sunday.
Some other drivers to look for include Denny Hamlin who has four top-fives and five top-10s in the past six Charlotte races. He is always solid, but never a winner in 25 career starts. He'll roll off the grid third on Sunday.
Kurt Busch is the only other driver besides Truex who has completed all 2,205 laps ran over the past six races at Charlotte. He also has five top-10s over those six events. His brother Kyle, the 2018 NASCAR point leader, will start from the pole position. Statistically, Kyle just hasn't put it together at Charlotte in the past. He only has two top-10s in those six events. In 28 career points races at Charlotte, Kyle Busch has never made it to victory lane.
If you are looking for a couple of longshot's Jamie McMurray and Ryan Newman would be two drivers that may fit the bill. McMurray has an average finish of 12.8 over these past six Charlotte races and Newman has four top-10s. Newman and McMurray are also both past All-Star race winners. McMurray has two other Charlotte wins, both coming in the fall.
If you want to go by the betting favorites the top five are:
Kevin Harvick 9-5
Kyle Busch 9-2
Martin Truex Jr. 5-1
Kyle Larson 8-1
Ryan Blaney 10-1
Of the drivers seeking their first career win, Erik Jones is the current favorite with odds of 25-1. Chase Elliott is at 30-1 odds and Daniel Suarez is at 60-1.
The race is scheduled for 6:00 p.m. EST this Sunday on Fox.