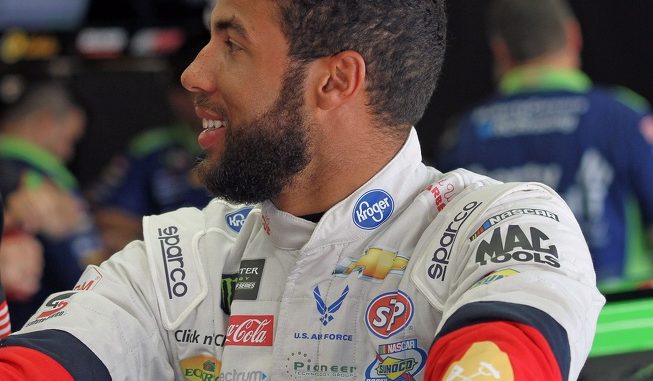 Darrell "Bubba" Wallace Jr is competing in his first full-time season in the Monster Energy NASCAR Cup Series driving the legendary No. 43 for Richard Petty Motorsports and is truly enjoying it. "I'm enjoying the hell out of this year. I'm having so much fun and some weeks are good, some weeks are not what we want, but we are continuing and growing and learning from it and that is all you can do.  Everybody I've run into that has been around for many years in this sport continue to kind of tell me the same message that not really blowing up my head, but kind of blowing up my head and saying we are doing the right things.  We are doing with the best with what we've got and when the car is right it shows.  When we are off a little bit, that also shows as well, but as long as we capitalize on those days and get the most out of it that we can, that is a successful day despite the finish that we didn't really want.  We are a small team, small budget, and we have shown some signs of great success throughout the year.  I'm excited about the tracks that are coming up. We get into the tracks that I made my first four starts at last year while subbing in for Aric (Almirola), so looking for a lot of momentum to kind of throughout this next month or so, this next stretch."
Wallace's story is a textbook example of working through the ranks of NASCAR to ultimately compete at the sport's highest level. Wallace reminisced about working his way up from legends cars to NASCAR's premier series.  "I miss racing legend cars and stuff out here.  I hate to see the path that it has kind of gone down. The age limit of getting into super late-models and late-models has definitely hurt this process of going through these ranks. I've always said when I have kids… this is year's down the road we don't need a follow up question about that (laughs)… I would definitely throw them through kind of the same path that I went through instead of coming out of quarter midgets or go-karts and jumping straight into a full-size stock car.  I feel like that kind of hurts you.  You don't really learn car control and you put yourself in a lot of bad spots early on and I guess you can learn, the learning factor comes up a lot quicker in that process but being out here a part of this.
"I remember coming out when I was 10 years old running the shootout and I remember this night specifically running on pole night.  We used to have the big screen right here on the front stretch.  Hell, one race I had a big enough lead or I was watching myself going down the back stretch and I'm like 'oh okay we have about a 20-car lead here in the bandolero'.  And I would over drive the next corner messing up trying to watch all that.  Good times for sure, being over in Turns 1 and 2 watching the Cup cars qualifying after we got done racing and winning in front of a crowd. There are a lot of good memories that come out of this place and it's always fun to talk about with (Daniel) Hemric and other guys that we ran with (Ryan) Blaney and Chase (Elliott).  Chase had the ugliest car ever when he raced.  Green car with green wheels just absolutely horrible, but there are a lot of good memories that come out of it."
Wallace competed in NASCAR's K&N Series beginning in 2010. The Mobile, AL driver had 36 starts in series and managed six wins.
In 2012, Wallace got his first start in the NASCAR Xfinity Series, then in 2013 competed in all 22 races in the NASCAR Camping World Truck Series. Wallace has a total of six wins in 46 NCWTS starts.
Wallace got his first chance in the Cup Series subbing for the injured Aric Almirola. While his results were not stellar, they were not bad for a rookie. His average finish during the four race tenure was 17.8. He did run well and consistently during the races with the best finish coming at Kentucky, just missing the top-ten with an eleventh. Most importantly, this opportunity provided some significant exposure and obviously impressed everyone at Richard Petty Motorsports. When Almirola announced he would be leaving RPM to drive for Stewart-Haas Racing, an announcement soon followed stating Wallace would be the full-time driver for the No. 43.
The important thing to understand about this deal is that the team was not fully funded for the season. RPM had enough confidence in Wallace to sign the deal and continue the search for sponsorship. Hoping, of course, Wallace's results and marketability would attract more sponsors.
The team has signed several small deals already this season. Kroger and Coca-Cola have joined the team for the Coca-Cola 600. Wallace talked about the deal in this week's media availability. "Yeah, it's an exciting partnership with Coca-Cola being a Coca-Cola racing family driver for numerous amounts of years now.  So, continuing to grow that relationship is always fun and also being partnered up with Kroger for the red, white and barbeque platform has been cool.  It's a tongue twister for sure trying to get that through and not say red, white and blue, but we are all representing NASCAR salutes, so it's all kind of tied in with that as we are representing at the same time Air Force Tech. Sgt. Scott Duffman and his family will be here to hang out with us and have a lot of fun.  Excited about this weekend."
The team's relationship with Coca-Cola was instrumental in putting the deal together. "The partnership with Coke definitely helped out a lot.  They are in tons of markets and we went to them and they kind of came up with this platform of how we can kind of incorporate Coca-Cola with Kroger and celebrating with friends and family and what Memorial Day weekend is all about."
Wallace was also a product on NASCAR's diversity program that provides opportunities to minorities. We are now starting to see the results of that program as drivers who participated begin to work their way up the ranks. Wallace understands the importance of this program and his role as a product of the program.  "It's big.  Being kind of the leader on the forefront of that with (Daniel) Suarez and (Kyle) Larson we all kind of know the roles that we carry and what it's like to be in that spotlight.  I'm starting to see more minorities and just a different demographic at the race track and followers on social media, so it's all continuing to grow.  It's not huge numbers that are flowing in and it's not going to happen like that.  The outsiders that look into this sport think that switching manufacturers and new driver and all this stuff that teams just kind of change things over night and become a superior team. That is not how it works.  It's goes the same for changing up the demographic.  It's all about word of mouth and getting one fan or one family out for them to go back or for them to experience the excitement of this sport and what it has to offer and for them to go back and tell the next family.  It's like a cycle and the next thing you know you start seeing more and more. For us, I'm trying to represent our team and my brand the best and most fun and positive way for them to 'hey we were around that Bubba Wallace kid and he makes it enjoyable to be at the race track.' Even when I'm at my worst, I try to put on my best and carry that positive attitude.  It's been a fun process.  It's a tough process trying to juggle all the emotions and the pressure there, but at the end of the day it's our job to go out there and perform and put the best foot forward."
Wallace is proving he deserves to be in the Cup Series and most importantly, he is "enjoying the hell out of [it]"