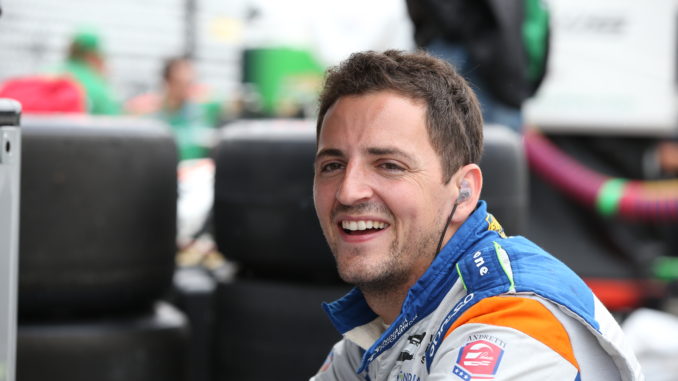 Stefan Wilson probably wishes this year's running of the Indianapolis 500 was about 10 miles shorter. If it was, he would've been drinking the milk in victory lane.
A strategy call put the No. 25 Driven2SaveLives Honda out front late in the race, but the 28-year-old still needed to pit for fuel, ending his 500-winning dreams.
"It was so close – a helluva strategy call by the team," Wilson said.  "The No. 25 Driven2SaveLives team did a great job all day. With that strategy call we knew we were gambling – we knew we were rolling the dice. We were just hoping for another yellow flag at the end."
The race was Wilson's second appearance in the Indianapolis 500 for his second time in his career. Last year, he willingly gave up his seat so Fernando Alonso could race.
The English driver carried a special theme on his car to help promote organ and tissue donation after his late brother Justin Wilson became a donor at the time of his death.
On Lap 193, the 28 year old found himself in the lead, and when he led the 2018 Indianapolis 500, he and his late brother Justin Wilson – who led the race in both 2010 and 2015, became just the fourth pair of brothers to have led the race; joining Louis and Gaston Chevrolet, Al and Bobby Unser, and Buddy and Jaques Lazier. He would go on to lead four laps.
On Lap 197, just three laps shy of the finish, Wilson had to come to pit road just to get enough fuel to be able to finish the race. After the stop, he moved his way up eight positions to finish in the 15th place.
"I was leading, and I knew we were strong enough and wouldn't be able to be passed but the yellow just didn't come," he said. "While I was out there leading, I was just out there thinking if it goes yellow now my dreams are made. It didn't happen, but we led our first laps, we learned a helluva lot this month and it was mad fun, so I'm leaving here with a smile on my face and my head held high."