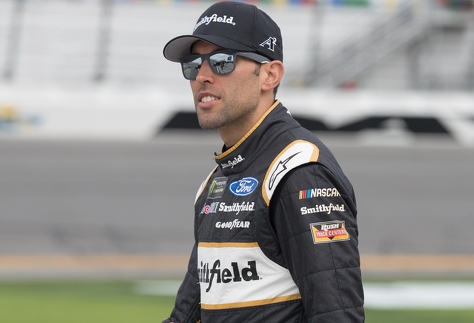 The Tricky Triangle has always lived up to its nickname – that is, at least, if you ask Aric Almirola.
Almirola has never run well at Pocono Raceway, and this weekend was looking like much of the same after Stewart-Haas Racing's newest driver qualified 34th for Sunday's race.
Almirola, however, was able to turn his luck around at Pocono with a seventh-place finish in Pennsylvania on Sunday. The top-10 result was his first ever at Pocono after 12 starts at the track in Monster Energy NASCAR Cup Series competition.
"Man, this is a really challenging place and I have run so bad here for six years," Almirola said post-race. "I just came here with an open mind and told myself I was going to study up and pay attention to what all three of my teammates did and try to learn and try to improve every practice.
"Qualifying we had whatever snafu we had with that set of tires and it got us set way behind starting 34th but the guys brought me an incredible race car. I finally figured this place out I feel like. I think the car has a lot to do with it but I started changing some things that I was doing and really picked up a lot. I am really proud of everybody. Another top-10," he said.
Coming into the weekend, Almirola had a best finish of 18th at Pocono, making it statistically one of his worst race tracks.
Now, Almirola will hope for a similar result as the series heads to Michigan International Speedway next weekend, another track he's historically struggled at. Almirola's best finish in the Irish Hills is a disappointing 12th last August.