Hunter-Reay Part of Championship Picture After Superb Detroit Weekend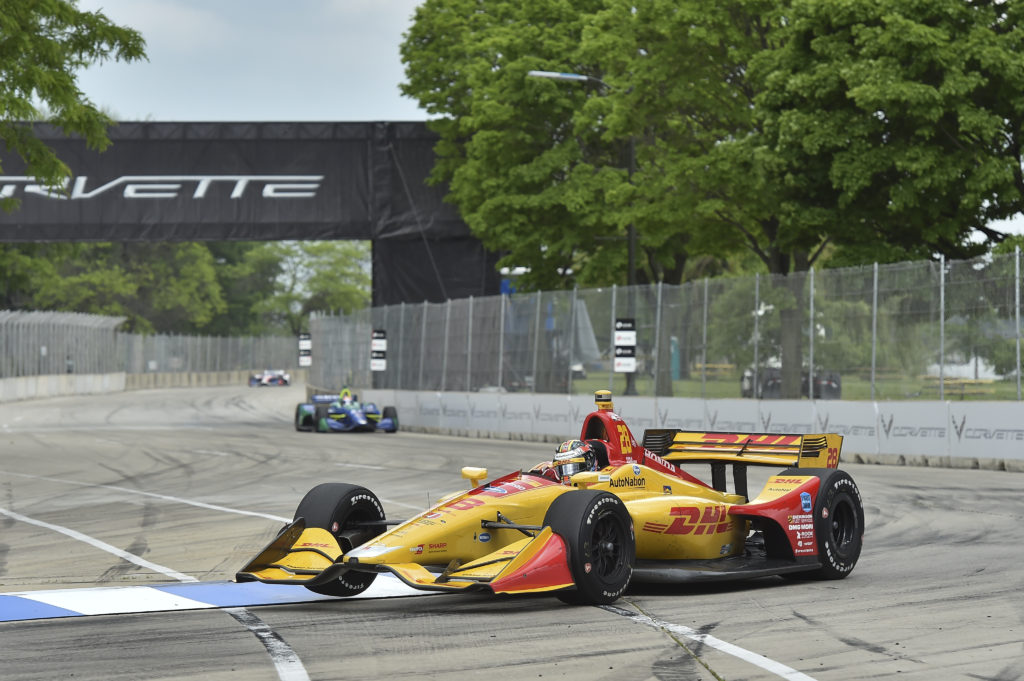 Ryan Hunter Reay, driver of the No. 28 DHL Honda, came into Detroit looking for a decent point's weekend and that is exactly what he got.
A mix of pit strategy, experience and a fast race car propelled Hunter-Reay from a fifth-place starting position to finishing the race in second, just behind Scott Dixon.
Sunday was a new day and a new race. The American driver qualified 10th for the weekend's second race.
When the green flag fell, Hunter-Reay was consistently in the top-10. But as the day went on, he proved to be a contender for the win. Again using a good pit strategy, Hunter-Reay put himself in position to win.
Chasing down teammate Alexander Rossi for the lead, Hunter-Reay pressured Rossi into a mistake, allowing him to overtake his teammate, and take the win.
"It was such a great car. I'm so happy for this No. 28 DHL Honda team," Hunter-Reay said. "I wish my wife and the boys were here with me because they're the best, and this has been a bit of a long time coming. That was going to be a heck of a fight at the end, but good thing we pressured him (Rossi) into it and we're here in victory lane.
"It's awesome – this car deserves to be where it is right now. That was a heck of a car, heck of a strategy, great in the pit lane and I drove my rear end off."
Hunter-Reay came into the race weekend fifth in the standings and 57 points back of the leader. Leaving both races in Detroit, he now sits fourth and a mere 31 points behind.