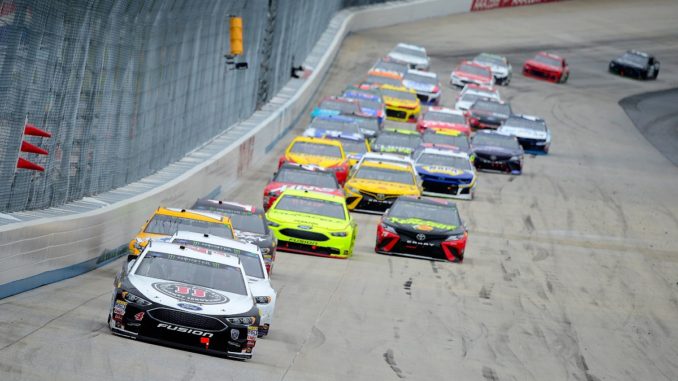 I was discussing NASCAR television ratings with someone the other day and they said 'why do you even care?'. He said, "why should you care what the ratings are? It doesn't have an impact on you."
See, I disagree with that statement.
As a longtime fan of NASCAR, I do care about the ratings because they have been in a freefall for the past several years.
Here's a ratings comparison of the first Pocono Raceway event from 2008-2018
2008 – 4.6 (TNT) – 6.1 million households
2009 – 3.4 (TNT) – 5.5 million
2010 – 3.3 (TNT) – 5.344 million
2011 – 3.2 (TNT) – 5.175 million
2012 – 3.2 (TNT) – 5.257 million
2013 – 2.8 (TNT) – 4.4 million
2014 – 3.0 (TNT) – 4.5 million
2015 – 2.3 (FS1) – 3.614 million
2016 – Rain delayed
2017 – 2.2 (FS1) – 3.56 million
2018 – 1.6 (FS1) – 2.72 million
Since 2008, NASCAR has lost over 3 million viewers at Pocono. In fairness, the television landscape is vastly different than it was then but that still should be concerning to those who care about the sport.
The racing product in 2018 is just not keeping people interested and many of the older fans have left in droves and there's not been many younger fans to pick up the slack. Something has to be done, which is why I think the implementation of a new aerodynamics package is pivotal for the sport.
NASCAR has literally tried everything to get more eyes on the television set and more people in the grandstands except make a major change to the aerodynamics of the cars themselves. Here's a small list of things that NASCAR has done to try to bring excitement to the sport:
The Playoffs for a guaranteed battle for the Championship at Homestead.
Double-file restarts to bunch the field up and make restarts themselves more exciting with more opportunities for passing.
Wave arounds and free passes to allow more cars to be on the lead lap during the events.
Stage racing, which is the biggest change of all. In theory it should be producing more lead changes than ever and close racing throughout the entirety of each event, but that simply isn't the case.
Instead of treating the disease, which is strung out racing, NASCAR has been treating the symptoms far too long.
If they could get the cars to be able to race closely and eliminate the "clean air is king" way, it would go a long way. No, this isn't an article on the aero package as I've written several of them now and I'm firmly in the corner of trying to slow the cars down to produce better overall racing. But if the racing itself is the disease, and the main reason for fans to be tuning out, it will always be a focal point in the conversation.
The reason you should care about television numbers is that if NASCAR doesn't turn the corner it might start becoming mighty difficult to find races on television again in a couple of years. I remember the time when we still had to listen to the races on the radio. When the television numbers dip, the advertising dollars start disappearing as well. If they aren't hitting a benchmark number they are going to spend their money elsewhere.
When the sponsors leave and it hit's NASCAR in the wallet, the purses decrease. It's not a coincidence that they haven't released the purses for the races in a couple of years. It's a big snowball effect and eventually it trickles down to the team level where if they can't sustain themselves by being on the circuit they could be forced to shut down. That's why all of us should care about television ratings.
We are at a critical junction of the sport and NASCAR has to know that they cannot afford too many more missteps.
A loss of over 3 million viewers for Pocono alone from 2008-2018 is definitely a warning sign. Where is the bottom? Believe me, we don't want to find out. There can't be many tricks left up NASCAR's sleeve aside from trying to fix the cars to make better racing.
They have already thrown the kitchen sink at the format and that hasn't worked, so now it's time to fix the on-track racing product.
**The opinions expressed on this site are not necessarily those of the publisher, management or staff. All comments other than website related problems need to be directed to the author. (c)OnPitRoad.com. **